Local Tribe De Mexico: Reviewing Sayulita's Newest Boutique Hotel
Local Tribe De Mexico: Reviewing Sayulita's Newest Boutique Hotel
Last Updated on January 7, 2022
---
For my 3 month stay in Sayulita, I rented an apartment right in the heart of the town next to Yolanda's chicken. It was comfortable and convenient and every time I opened the door, I was hit with the smoke coming off of that chicken grill. Whether or not that's a good thing depends on who you ask.
I liked my place, but I also enjoyed a bit of upgraded comfort every so often and an escape from my routine. While looking for locations to do photoshoots, I came across a number of beautiful new boutique hotels that was perfect a for 2-3 days break from my casita. Staying at Casa Selva was like being back in the tropical jungles of Indonesia.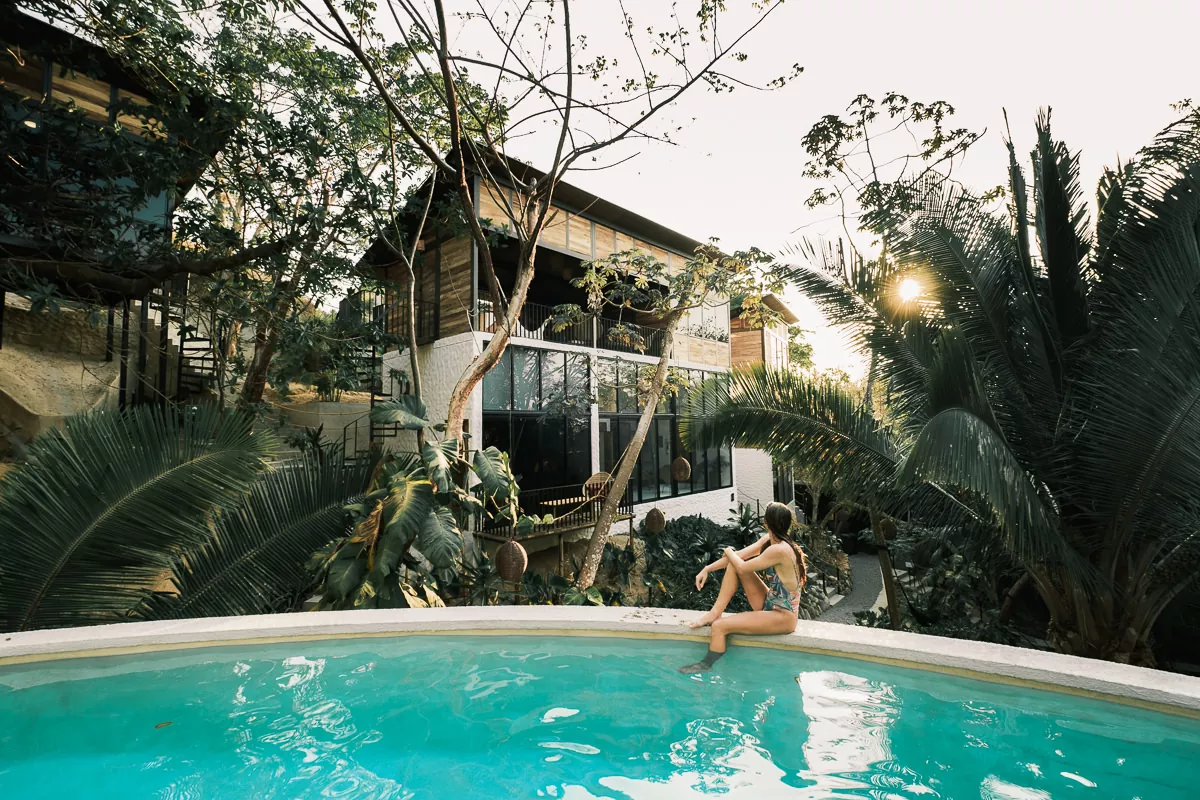 For my birthday and an end to my trip, I wanted to check out one of Sayulita's newest boutique hotel with a most unexpected name – Local Tribe De Mexico. The only problem was there was hardly any information about it and putting it into Google Maps landed me right on top of another hotel – Amor Boutique Hotel.
What Is Local Tribe De Mexico?
As it turns out, the pin made perfect sense because they are part of the same property. Some of the villas and rooms belong to Amor Boutique, but Local Tribe De Mexico stands apart conceptually and literally. Look for yourself.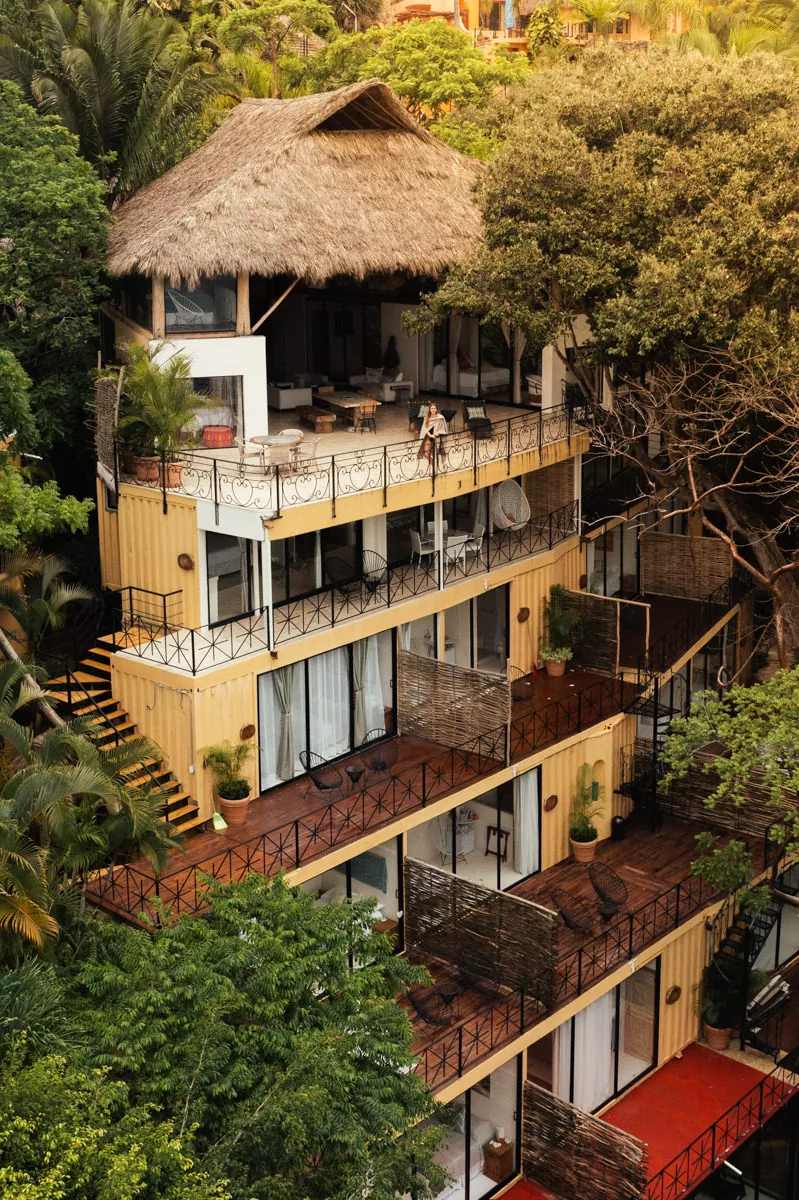 Nestled right into the hillside and canopy are a series of repurposed shipping containers stacked on top of each other and converted into luxury rooms and villas. I've seen this eco-friendly concept elsewhere and it's a dream of mine to build my own place using these containers.
At the bottom, you have their Tribal Gym. The next three stacks are 1 and 2 bedroom studios with private decks opening to a view of the ocean. The top most container is the Panorama Villa with its sweeping ocean view, hanging lounge chair, and 2 separate bedroom. This is where I'd be staying for my little escape and birthday celebration.
The crown jewel, Villa Amor Eterno, sits above everything. With a 50 foot palapa roof and open living space and terrace, this villa suite sleeps 12 and is where I would go if I came down to Sayulita for a few days to celebrate something with a group of friends or family. I did get a chance to use the space for a quick shoot, so read on if you're interested in this suite.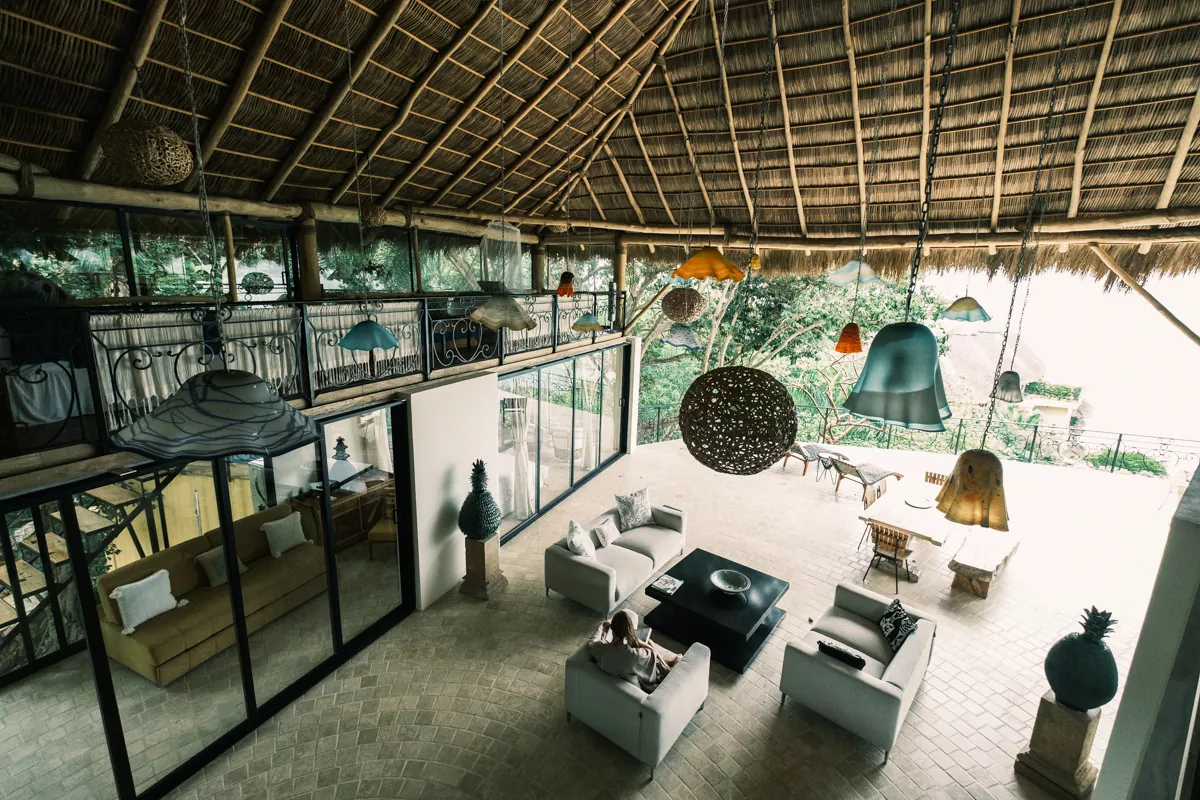 Rounding out the property is the hammocks terrace (where you can catch some sun and a nap), the Media and Games Nest (for a game of ping pong, foosball or Settlers of Catan), the massive resort pool, and a jungle spa.
Checking Into The Panorama Villa
I had walk by Amor Boutique multiple times over the years getting to playa los muertos, but I had never seen a sign for Local Tribe De Mexico. Turns out, the check-in is shared with Amor Boutique. While our bags were being taken up, Karla, one of the property managers, gave us a tour of the place.
Disclaimer here. You know how I said that the containers were stacked on top of the each other with each level up getting you a higher view of the ocean? Well, prepare to get a little workout. Coming from the beach entrance, you have a tidy number of steps to climb to get to the rooms. For us, the Panorama Villa was the equivalent of being on the 6th floor. We definitely would be getting our exercise each day, but it honestly wasn't that bad.
There's a different gate from the top end of the property if you have a car or a golf cart, so there's that option.
When we got to the top, the view from our terrace immediately made us forget about the walk. This was one of the best views I've had in all my years visiting Sayulita. We settled into the AC room to escape the 90 degree heat and then made ourselves a couple of cold drinks. I couldn't imagine being anywhere else at moment and it was just splendid.
The Room
Technically, there's two bedrooms, but there's only half a wall between them, so it's pretty open and not so private. It wouldn't be a stretch to say that though this room sleeps 4, it's probably not meant for 2 couples. Great for friends and perfect for a family.
Funny enough, like almost everywhere else in Sayulita, this town loves their open space concept. One of my Airbnb apartments had a window right into the bathroom, another simply had a curtains in front of the bathroom door and walls that did not go up all the way to the ceiling. You'd be better comfortable with whoever you're staying with.
The room is massive though. There was just so much space I didn't even know what to do with it.
At the far end, there's a small kitchen with a fridge, water dispense and coffee machine. Freshly ground coffee was provided, which was a nice touch. Nothing fancy here, but enough to do some simple preparations.
The beds were massive. Definitely a California King, but it felt even bigger. Over the course of 3 nights, it was one of my nicest stretch of good sleep.
Amenities wise, the towels, water, and coffee was replenished daily. Hotel toiletries are usually a hit or miss for me, but I really liked the honey soaps and shampoo that was provided.
Waking Up To This
The weather wasn't on our side for my last few days in Sayulita and at Local Tribe De Mexico. After a beautiful sunset on the first day, we had a storm system pass through the Nayarit area. It rained and then rained some more. High up, we were treated to a bit of a lightning show from the comforts of our terrace and then the sound of jungle rain through the night. Tucked in bed, it was a very tranquil experience.
One of my favorite moments of the stay was waking up just before dawn to go surfing. As we got up to check the surf reports, I looked out the wall to wall windows to see that the rain had stopped and the first light of day was beginning to shine onto Sayulita.
From our vantage point, we could actually see the surf coming in from far away towards the main break. It wasn't great that morning, so instead I opted for a cup of coffee and some quiet moments watching the sun come up over the waters.
We did go surfing the next day and it was really nice that they had a selection of long boards that's free to use. This was great because Emy had sold her board just before leaving and we only had one board between the two of us. Problem solved.
I only wished we had more time and better weather because they also had beach cruiser bikes and stand up paddle boards that were also free for guests to use
The Tribal Gym & Resort Pool
Skipping the morning surf, we instead went to the gym. It was fun to get in a workout with Emy since we'd never done that together. It was surf or nothing for her in Sayulita.
I didn't expect a full gym, but it had everything I needed to get in a good workout. Weights, a resistance machine, a couple of bikes, and those Bosu balls I love so much. We did a quick workout and had a bit of fun too.
While the weather wasn't great, it was still pretty hot so we cooled off at the pool. And what a pool it was.
The lounge chairs were pretty nice too for relaxing on your terrace.
Checking Our Villa Amor Eterno
On our first day, Karla took us up to their premiere villa suite, Amor Eterno, since we were wondering what was above our room. She was pretty excited to take us through those carved wooden doors and we could see why shortly after.
As soon as you enter, it looked like something out of a magazine. A living room opening right out to a massive terrace that offered an even better view than our own.
To the right was a full proper kitchen. I'd imagine some guests probably hire their own chef to cook meals here.
Flanking the open space were two glass rooms each with a master bed and a living area. I fell in love with the couch and would later request to use the space one of the days to do a quick shoot with Emy.
One of the glass rooms opened on the other side to an outdoor jacuzzi tub and hammock.
Upstairs, there were 4 more beds right beneath the palapa roof. All together, I was told it could sleep 12. They have an option to rent just the bottom suite for up to 4 or to rent the entire thing with the lofted area for up to 12.
And based on what I knew of prices in the area for a comparable villa, this was a very good deal. The bottom area rents for about $300 USD a night and the entire thing is about $630 USD a night.
Celebrating My Birthday
I try to spend my birthday like any other day of the year – doing exactly what I want, but maybe just a little nicer. I spent the morning just lounging in bed and not thinking about all the things I "had to do" before leaving Sayulita. And since I already had the beautiful backdrop of the hotel and the view, I arranged for a massage with my favorite masseuse in Sayulita.
If you don't already know, Emily from Sayulita Sports Massage, is probably the best massage therapist in this area (and I've tried many). Trained at one of the top schools in Canada, she approaches every client and massage differently depending on your need. I'd been surfing quite a bit for the last couple of weeks, so there was stiffness and soreness in so many spots I didn't even know where to start.
Like some magical intuition, Emily was able to pinpoint with any further guidance, almost every single knot and applied just the perfect amount of pressure and duration to each one. I can say that of the hundreds of hours of massage therapy I've had around the world, this was the best and it's not an exaggeration.
We finished the hour with a short medical acupuncture session to target a few points that were extra tight. Ironically enough, I'd never been poked before with acupuncture needles, so it was certainly an experience. Each needle is used just once and immediately triggers a release when it penetrates the muscle.
It was so relaxing that I wished we could have done the whole session all over again right then and there.
The hotel offers a spa and their own treatments, but it wasn't open at the time. Maybe next time.
I invited a few friends over for a simple lunch, with, of course, Yolanda's chicken. It seemed fitting considering that I lived next to the place for almost 3 months, but hardly ate there because it was so close. They knew me well enough and brought me and Emy's favorite dessert, a cheesecake from Yvonchi's. I like the turtle cheesecake, while she prefers the raspberry, so guess whose won out for my birthday?
We chilled on that beautiful terrace until everyone left and then went to dinner at my favorite Italian spot in Sayulita, L'Ulivo restaurant, where we can never get enough of their burrata and 18 month aged prosciutto.
Saying Goodbye To Sayulita
It was a perfect way to bring my 3 month stay to an end and the stay gave me some ideas for where I'd stay the next time I came down for a short trip with friends or family. As far as rates go, our room cost about $275 USD, but their cute one bedroom studios start at a little over $100 USD and they have steep seasonal promotions if you book directly on their site.
For the best value, consider booking their Amor Eterno Villa. At $315 USD, I think it's a steal since you get the full experience of their "penthouse" villa. If you need the extra 8 beds, you can spring for the full More Amor Villa, which includes the upper loft.
If you're heading to Sayulita, check out my comprehensive guide to the town and my local guide to eating in Sayulita. It's one of my favorite spots in the world and I think you'll very much appreciate that you've chosen this place for your next destination. For more travel ideas, check out my bucket list to get a bit of inspiration.