Ultimate Guide To Sayulita: Mexico's Hidden Gem Surf Town
Ultimate Guide To Sayulita: Mexico's Hidden Gem Surf Town
---
Sayulita is one of my favorite places in the world. While I have quite a list of favorite places, I find myself returning to Sayulita more often than I'd expect – and staying for months at a time each year.
Those who really know Sayulita understand how special it is. There are many surf towns in the world, but what makes Sayulita unique is that while growth and change (due to its exploding popularity) continues to happen, it still manages to keep its original hippie surf town charm.
If I had to pick one thing that stands out about this place, there really isn't one. I've seen better beaches and surf spots that aren't so crowded, and there are towns that are more quiet and quaint. The food's great, but is this where you'll find the best Mexican food in Mexico? Probably not. In fact, visitors who pop in for a day trip or stay for just a couple of nights often find it a bit underwhelming and overcrowded. Coincidentally, they're also coming when everyone and their family is also in town.
For me, what makes this place special is that it's not for the Instagram chasing crowd. The beauty here is better appreciated with your own eyes and when you're have a bit of time on your hands. And you'll only see what I mean when you get there.
Below is my comprehensive guide that's come from spending a chunk of my time here every year since my first visit in 2014.
Where To Eat | Best Hostels | Best Boutique Hotels | How To Choose An Airbnb | Top Things To Do | Best Time To Visit | Where To Go Surfing Around Sayulita | Where To Party And Dance In Sayulita |How To Get To Sayulita | Where To Get Groceries | Where To Get Alcohol | Where To Do Laundry | Best Gyms In Sayulita | How To Get To Other Beaches In Sayulita |
Escaping The Crowd In Puerto Vallarta
My favorite thing about Puerto Vallarta is that it is very well known and an hour away from Sayulita – which keeps most of your average tourists visiting Mexico away from Sayulita.
PVR has the international airport, the mega resorts, beaches, shopping malls, and even an old town to keep most tourists happy. There's no reason to trek out nearly an hour to go to another "beach" when you can just stay put and "safe" at your hotel with its private access to a beach.
It is the ultimate buffer that has kept Sayulita a more hidden enough town – at least for now.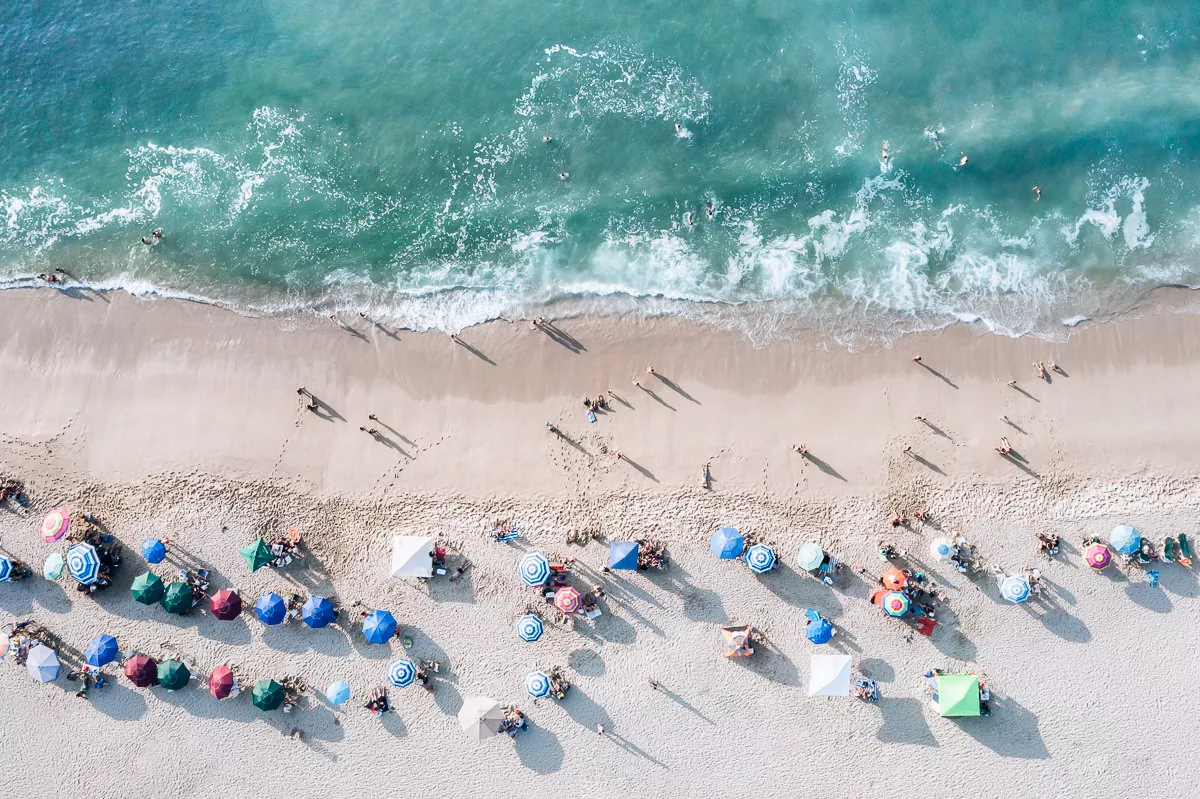 And yet, being just out of arm's reach from Puerto Vallarta means that I can take a 2.5 hour flight from Los Angeles in the morning, jump on a local bus across the street from the airport, and be there in time (even with a 2 hour time difference) to catch an afternoon surf and settle in for some beers on the beach at sunset.
My Favorite Places To Eat In Sayulita
Over the years, I've actually made it a challenge to eat at every restaurant and food stall in Sayulita and to my surprise, there were over 100 different dining options. Each time I come back, new restaurants and stalls pop up, so it's never-ending.
The main part of town is a 3 x 3 "block" grid and there's over 30 places here alone. Finding a good place to eat is easy, but it's also difficult because there are so many to choose from.
There's 3 places I first recommend to everyone when they arrive into town hungry.
1. El Itacate
You can't miss this place with all the fragrant smoke rising from the grill in their open kitchen. Look closer and you'll probably see a large skillet with cheese being fried. That's for the 'Itacate', a tortilla-less burrito wrapped in a crispy fried cheese.
I go here because it has the best arranchera steak tacos in town. Everything is served with a massive spread of salsas, fire-grilled onions, beans, cilantro and peppers. There are many options for vegetarians, but I recommend the sautéed 'jamaica' or hibiscus tacos. If you come a second, or third time, get the 'chili' or 'papas'. Trust me on this one.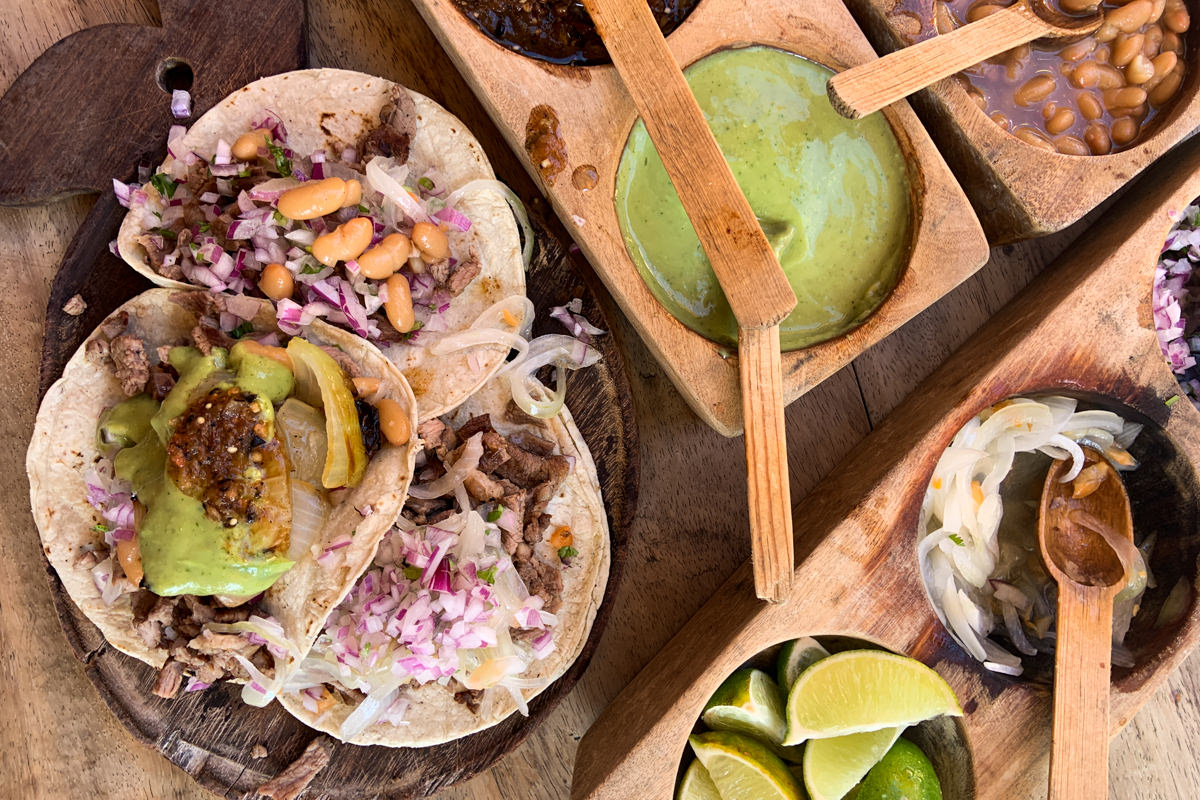 2. Mary's
I'd say this is the best Baja-style seafood tacos in Sayulita, but it's much more than that. Order the Mary's Taco and Sayulita Taco, a fresh take on the camarones (shrimp) tacos that is topped with fresh avocados, roasted poblano peppers, sweet corn and mushrooms. Top it with their addictive homemade chipotle sauce and you have perfection.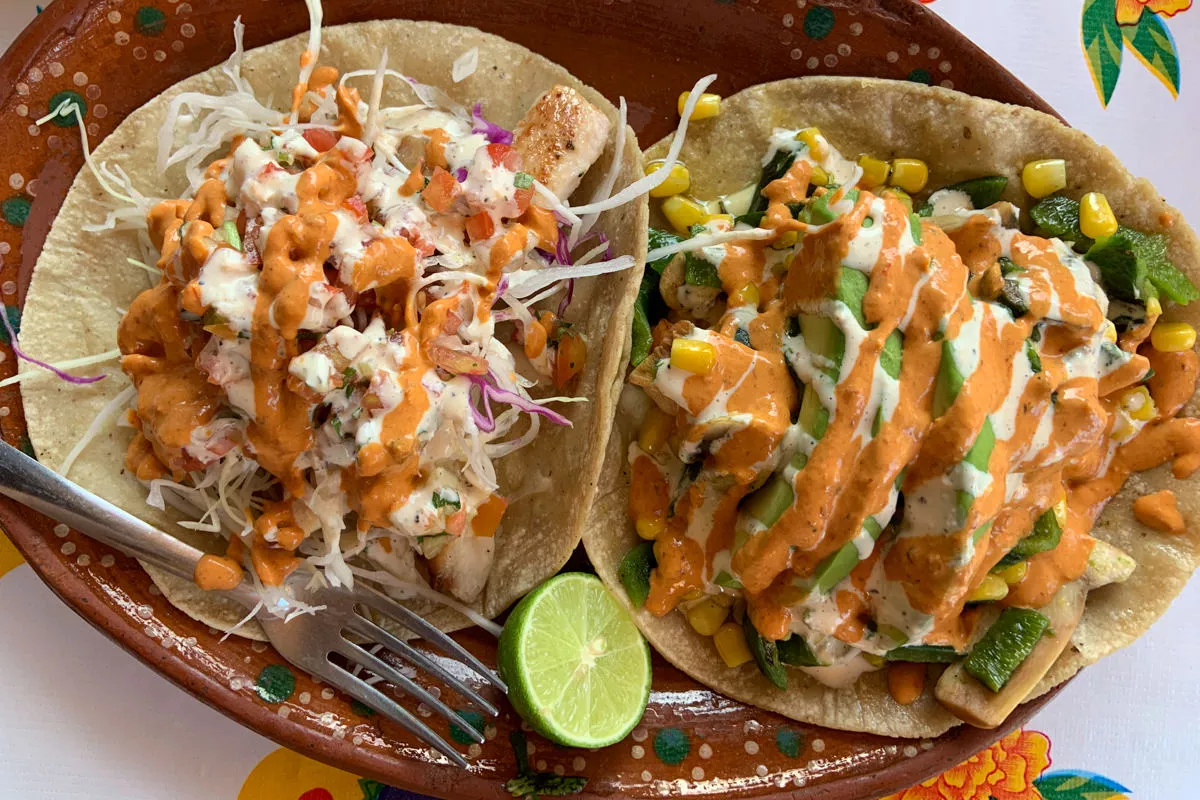 Two of these tacos will fill me up each time. Order one grilled and the other breaded. It's so hard to choose.
Another great option that I eat on the regular is their cazuelita. It's basically a Mexican version of your typical bowls, filled with rice, beans, a variety of grilled vegetables and topped with your favorite protein. Ask for the black chili oil and the chipotle sauce to go with it.
3. Barracuda
For lunch or dinner, treat yourself to a fine dining open air experience. This place has the freshest seafood in town, whether you eat right on the main Delfines street location or at the beach front restaurant itself.
Any fish on the menu with be prepared beautifully, but I recommend their steaming seafood molcajete (picture an extra large mortar and pestle without the pestle made of volcanic rocks) with generous portions of giant prawns, octopus, melt-in-your-mouth arranchera (skirt steak) and slabs of fresh queso. They've got a great cocktail and wine selection too.
Definitely check out my full list below in my comprehensive eating guide to Sayulita.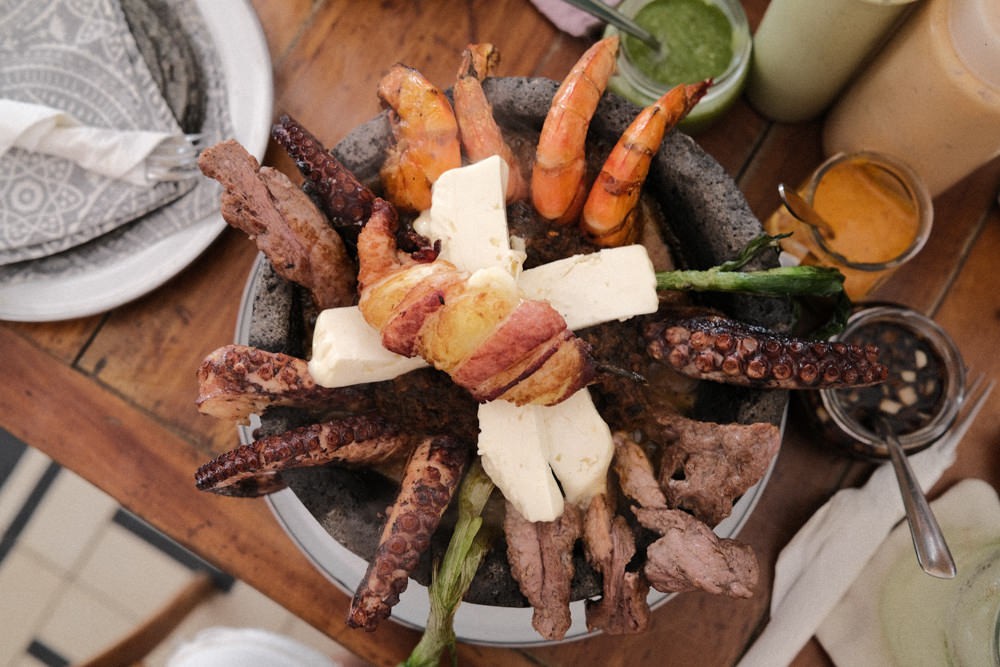 TRAVEL TIP:
When I book for myself, I either use Agoda or Booking.com to get the best prices, depending on the region. For Sayulita, I suggest you use this link, which has filtered out hotels with lower review scores. By Sayulita standards, anything between a 8-8.5 is good enough, especially if there's over a 500 reviews. I would be skeptical of higher scores if there's less than 100 reviews.
Where To Stay In Sayulita
Like it's food offerings, there are accommodations for all budgets and tastes in Sayulita from beach bungalows to hilltop hotels offering privacy and quiet.
Cheap Accommodation In Sayulita: The Best Hostels
For backpackers and budget travelers, there are a few hostels in Sayulita. The Amazing Hostel offers a quiet space away from the crowd, but for me, the go to spot is either La Redonda Hostel or Selina Hostel.
La Redonda is run by two girls born and raised in Sayulita and has the best location in town – just about 100 meters from the beach.
1. La Redonda Hostel
La Redonda Hostel is rotunda shaped with dormitory style rooms on the top floor and an amazing open-plan hang out space and bar on the ground floor. It opens into a garden with tables, hammocks, and an outdoor kitchen. There's even an outdoor shower to wash off the sand after a surf session. They rent surfboards and can set you up with anything you need to do in Sayulita.
2. Selina Hostel
Selina's is a chain of hostel/hotel combo that's all over Mexico. While it may lack of the charm of being locally owned, you get really good value and high end hostel accommodations at reasonable prices.
One of the newer options in town, the Selina brand took over where Kupuri hotel used to be. There's a pool in the courtyard and direct access to "The Garden" a restaurant, bar and co-working space that offers live music most nights and salsa lessons on Wednesdays.
Best Boutique Hotels & Resorts In Sayulita
There have been quite a few boutique hotels that have popped up around Sayulita over the last few years. Each has its own flavor whether you're looking for a tropical jungle escape, a modern minimalist vibe, or want to stay in a shipping container. Below isn't an exhaustive list, but places that I've chosen to stay at myself and can recommend.
1. Casa Selva
Staying at Casa Selva is like a little escape from Sayulita. What you get are really well-designed bungalows nestled in a jungle that's a few minutes walk away from the beach and a roughly 15 minute walk to town. If you want peace and quiet, this is a great spot that's still walking distance when you want to go out for a meal or hit up the main area of town. Read my full Casa Selva staycation review here.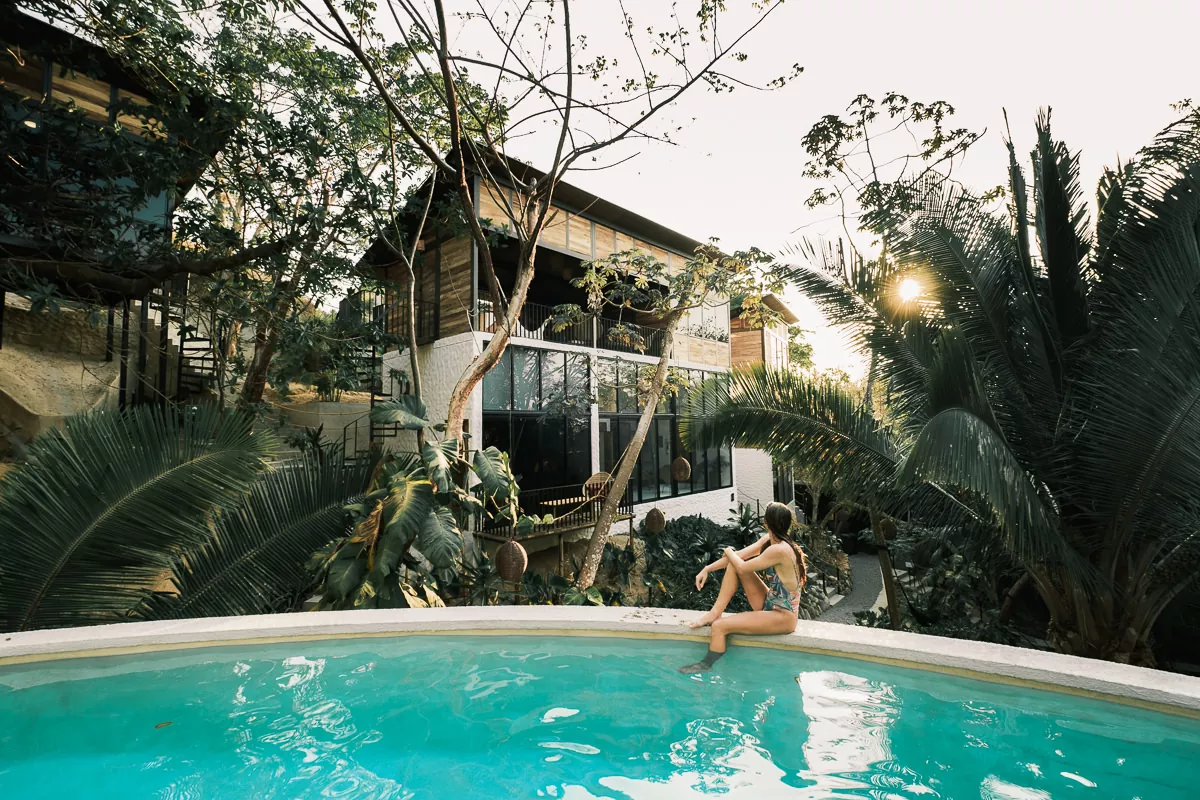 2. AzulPitaya Beach Hotel & Resort
It's worth booking in advance for AzulPitaya, even with their 60 rooms. This hotel is right on the beach and in the heart of Sayulita, but is quiet at night. That's a very rare combination. It also has the largest pool in Sayulita, free breakfast, and every room has a king sized bed, kitchen and balcony. There's also a second smaller pool with hammocks and swings that overlooks the beach. Great spot to grab a drink and watch the sunset. You can read my AzulPitaya review for more in-depth look at their hotel.
3. Local Tribe De Mexico
If you want something different, like say, a hotel room designed from repurposed shipping containers, check out one of Sayulita's newest boutique hotels. There are quite a few options here from studios and two room villas all the way to a grand villa with space for 12 and open-air living space and outdoor tub. The views here are spectacular, there's a gym and a beautiful pool. There's also a game room and free surf boards and stand up paddle boards that you can use during your stay.
How To Choose The Best Apartments In Sayulita
If you want more a home feel, there are many great Airbnb options with ones always being added. Plenty of beautiful spaces to choose from, rather than provide you with a comprehensive list of places where I haven't stayed, here's my advice. Also, if you see something like on Airbnb.com, also looking for it on Booking.com. I've found that it's oftentimes cheaper on Booking just because there are less fees.
1. Location
Personally, I recommend staying right in town or within a 5 minute walk if you can if you don't have a car and or you want to back and forth to the beach throughout the day. By that I mean stick to the area around Calle Jose Mariscal, Manuel N. Navarrete, and Avenida Revolución.
There are a lot of options across the bridge or past Calle Pelicanos. Calle Palmar has a lot nice boutique hotels and a few fancy Airbnbs too.
Behind Calle José Mariscal is the beginning of "Gringo Hill" and quiet a steep walk if you're without a vehicle. That being said, there are many more options with more space and better views as you get away from the center. There are some beautiful places up the hill when I want a little escape, better accommodations and a better price.
2. Check The Bathrooms
I only mention this because there's something about the way they build things down in Sayulita where the bathrooms are not always fully private. Sometimes, the walls don't extend all the way up to the ceiling. Sometimes, there's just a curtain instead of a door. And sometimes, it's just a big piece of glass. No joke. Maybe it's not a big deal, maybe it is. But it's better to find out beforehand. Trust me, I've been asked to leave the room/house at times so the other person can use the bathroom without anxiety.
3. Parking
If  you have a vehicle, consider looking for a place that has a parking spot or stay away from the center. It's not easy to park or drive around in the center. You don't need a vehicle to visit Sayulita, but it's nice if you want to surf or visit some of the other beaches on the way to Punta Mita.
Top Things To Do In Sayulita
1. Hit The Surf
This is after all, a surf town. Come learn to surf with the many surf schools in town. I highly recommend Marea Surf School, run by a local guy named Miguel. They are laid-back, professional and offer really good prices on lessons and rentals. WildMex has been around for a while and offers trips to La Lancha, a great spot away from the crowds, and you can easily just book online here and not worry about being quoted different prices.
If you want to just book a transfer to La Lancha, WildMex offers a couple of shuttle trips throughout the day. It costs about $20 if you book with them or you can book online here for $18.
The main beach has two main surf spots – one for beginners, and the others for experienced surfers. Further down the beach is another spot that's right in between. The slower breaks are preferred by longboarders, but shortboarders come out when the breaks are faster and shorter.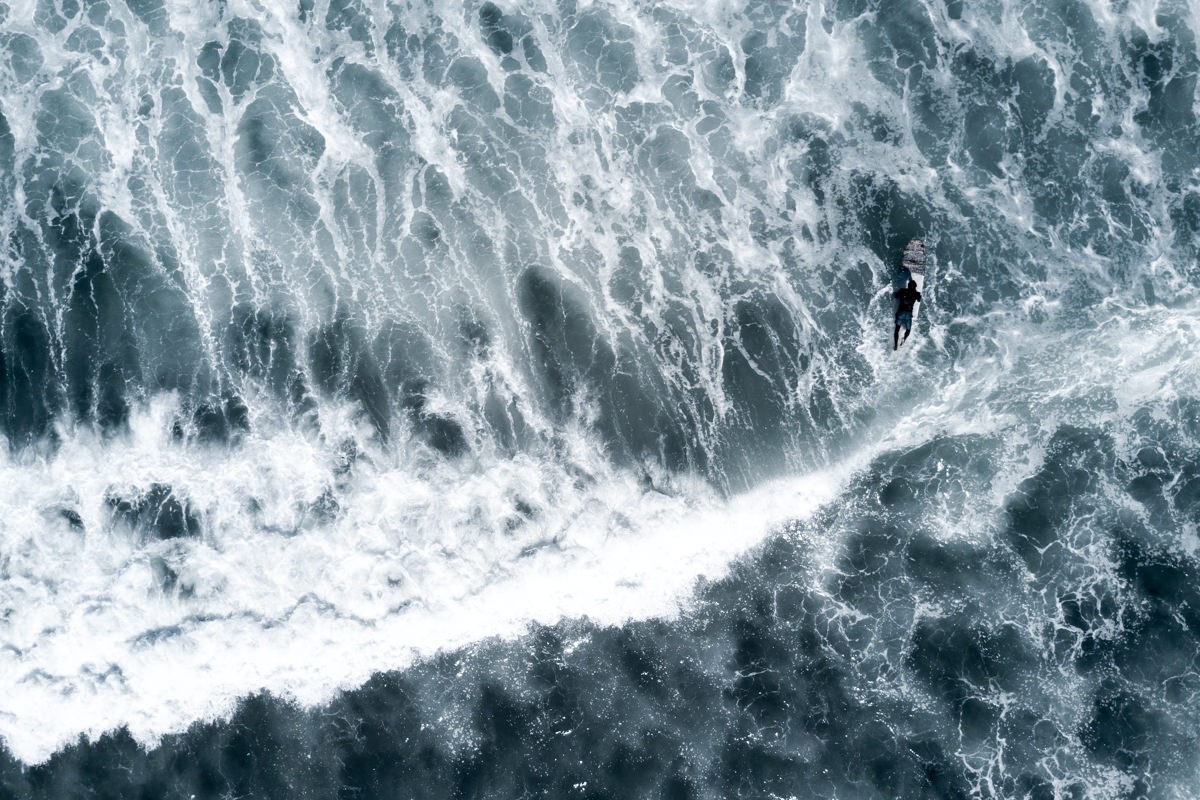 2. Visit The Marieta Islands
The Marieta Islands is now a protected area and limit the number of visitors a day. The famous Playa del Amor is a bucket list spot that requires a short swim or snorkel in. The beach would be all but hidden if not for the massive caved in opening atop the rocky island.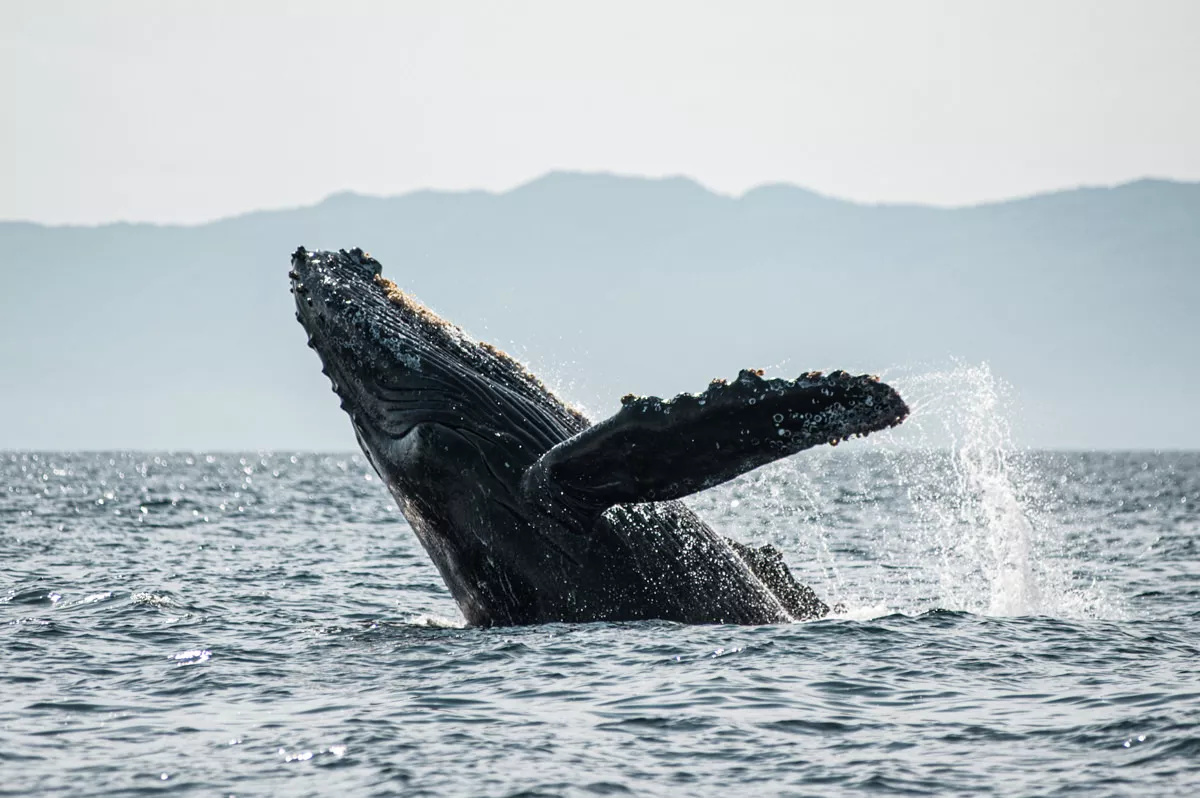 From December – April, you're almost sure to catch a whale or two during their migration season. You can find good prices here and pay online ahead of times if you don't want to deal with haggling at a tour office to ultimately get to the same price.
3. Spend The Day On A Catamaran
It might be wrong to say this, but I'm almost bored of seeing whales when I go out on a boat trip here – because you spot so many of them breeching the surface. Daily catamaran tours take sunbathers out on the open waters for an open bar day of fun and sun.
They stop in different spots for you to snorkel, paddleboard or kayak. It's one of my favorite things to do every so often with a group of friends. Chica Locca and Ally Cats are the two companies offering these boat tours. They are both similar, though you tend you find a younger crowd on Chica Locca.
4. Catch The Sunset At Carraccitos
The only bad thing you can say about Sayulita is that there is no sunset for parts of the year. It's blocked by one of the small rocky mountains to the west. Go for a nice hike through the jungle down to Playa Carracitos and you "escape" from Sayulita. It's a great spot to spend a peaceful day and catch the sunset. The afternoon glow and golden hour on the main beach is just sublime. It's my favorite time of day.
5. Party Every Night Somewhere Different
There are a handful of bars and beach clubs that everyone goes to on certain nights of the week. Learn salsa at The Garden on Wednesday and dance on the beach at Coco's every Friday night. If you're into techno and electronic music, Yambak is a local favorite with half the crowd just hanging out on the street having a beer. Lucid just down the same street draws some great local DJs. Attico is another favorite with locals and visitors alike, where you can grab a seat at one of the swings (or a normal table if you prefer) and listen to live music every night with a good drink in your hands. Don Pato's has been around for as long as I've been visiting Sayulita and I still like to go here for their ever changing music selection each night and the cheap drinks.
6. Fix That Hangover With A Session Of Yoga And A Massage
There are a lot of of yoga teacher training down in Sayulita, taking advantage of the quiet tropical space just outside the main drag. Paraiso Yoga offers daily yoga classes for 200 pesos (~$10 USD per session).
Alternatively, there are private instructors that teach at the hostels (open to everyone). I prefer this, as you are supporting local practitioners and the prices are more amazing.
Valeria of Happy Yoga Sayulita is an amazing instructor with such a wonderful attitude and approach. She teaches at a few different hotels, but you can also reach out to her for private lessons right in the comfort of your own accommodation for a really good price. You can reach her at +524761006810 on WhatsApp. I highly recommend it reaching out to her.
Afterwards, if you want to keep treating your body well, I recommend getting a massage with one of the best massage therapists I've experienced anywhere in the world. Call up Emily at Sayulita Sports Massage (not just sports massage) and thank me later. She still does house calls, but just recently opened her own clinic with the best massage table in town.
You won't find two more energetic people with bigger smiles on their faces in Sayulita than these two.
7. Escape to San Pancho
The next town over is what Sayulita was 5-10 years ago. It's a weekly day trip for me to go somewhere a little more quiet. That's not to say they don't have everything that Sayulita has, including some of the best restaurants and a sunset that everyone claps for each day.
When Is The Best Time To Come To Sayulita?
December and January is the high season for Sayulita. North Americans and Europeans comes down here to escape their cold winters. It's also the best to come down in terms of weather.
March and April is another great time to come to Sayulita. Thought it gets really busy every weekend, it's still an ideal time to come down before it gets too hot. It's warm, but the heat has yet to truly hit by April. Mexico's hot and rainy season is from July to September, which is the quietest time of year in Sayulita.
Things cool down a bit in Sayulita in October, just as the holidays begin starting with Dia de los Muertos at the end of the month.
November is my favorite month in Sayulita personally because the water is perfect, it is sunny every day and it's the calm of the storm before the high season. Not to say that I don't enjoy December and January. The atmosphere picks up and it's a lot of fun. If it feels too crowded, like on a local holiday weekend, I just take a 10 minute cab to San Pancho, a sleepier version of Sayulita.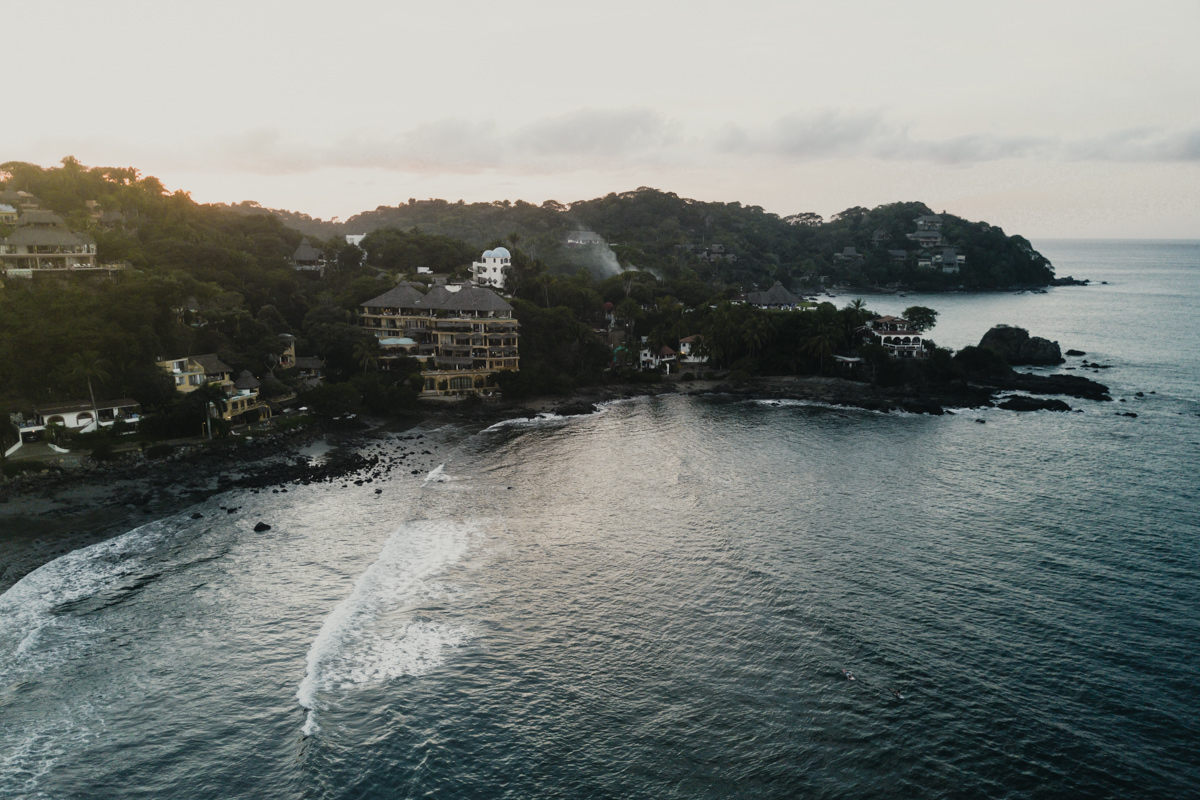 Sayulita settles down a bit in February, so it's similar to November, but a bit warmer. March and April marks the beginning of the hot months in Sayulita. The town is a lot more quiet, so it's great time to go if you want to avoid most of the visitors.
May, June and July puts you right in the middle of summer. Puerto Vallarta gets a lot of the summer vacation crowd, with some making their way to Sayulita. I personally avoid these months because it gets too hot for me.
Where Are The Surf Breaks Around Sayulita
Main Break (El Punto or La Derecho)
This is the main spot to surf in Sayulita. It's located just to the right of the main entrances to the beach from town. This is an intermediate/advanced area and is the most crowded spot in Sayulita. Longboarders are already out here for the dawn patrol, but the early morning is your best chance of avoiding a crowd. The waves here are pretty consistent and are usually about 1-2 meters tall. There's a rock bottom with the occasional sea urchin so try not to step down when you get off the board.
The waves tend to get bigger and faster around sunset when you'll find more shortboarders than longboarders
Beginners Sandbar
Turn left when you enter onto the beach from town and you'll find a spot where swimmers and surfers mingle. This area is where the schools taken new surfers out for their lessons. The waves are very gently here so it's ideal for practicing technique and to get pop up on a board easily. Just be mindful of all the beachgoers and swimmers wading in the shallow water.
Left Break (La Izquierda)
Not as consistent as the main break, but still a good spot is the Left Break further north on the beach. This area is not as crowded as the main break because the waves are usually a bit smaller and closer to the beach.
La Lancha
One of the most popular spots outside of Sayulita. Located in Punta Mita, this beach has multiple breaks that are a lot less crowded than the surfing spots in Sayulita. You'll need to walk 10-15 minutes through a jungle to get to the beach, but it's definitely worth it.
You need to drive here or join one of the WildMex shuttles going 3 times a day. They depart from Sayulita at 8 am, 11 am, and 2 pm from November – April and at 9am, 12 pm and 3 pm from May – October. It's 12 USD one way or 20 USD for a roundtrip transport. It's cheaper to book online here for $18. It takes about 30 minutes to get to La Lancha from Sayulita.
You can also rent your surfboards out at the WildMex shop where the shuttle drops off.
Anclote
One of my favorite spots when there are strong swells in Sayulita. The waves here are long and gentle. Just don't drift too far left as there's a rocky section with exposed reefs here. Park in the shopping center and walk through one of the restaurants to get to the beach. The break will be to your right.
Stinky's
Another popular spot close to La Lancha if you have a car and don't want to walk through the jungle to get to the beach. It's a popular spot for swimmers and sunbathers, but there are a few breaks here that will satisfy any surfers.
Burros
Burros is further south on the Punta Mita highway from La Lancha. Getting to the beach here also requires a walk through the jungle, but the payoff are some of the bigger swells in the area.
Where To Party And Dance In Sayulita
Coco's Beach Club
This is the place to go on Friday night is you're visiting Sayulita. They usually have a DJ and play a lot of the top hits and favorites on the radio. It's right on the beach and the party goes on til 3 am. If you want to dance, go here. There's a cover of 50-80 pesos depending on the season.
Yambak
This is where the locals like to go on the weekends to hang out in the bar and on the street in front of it. There's also a DJ playing electronic music most nights. Tuesdays is 2 for 1 at Yambak.
Mucho Bueno
Thursday is main party night at Mucho Bueno and they usually have some kind of 2 for 1 drinks going on. It's not the biggest place, but there's a DJ and makes for a fun atmosphere since everyone comes here on Thursday night.
Don Pato's
This was one of my favorite places to go in the past to dance until they started charging a cover for every night of the week. They have live music most nights of the week, but it's not somewhere my friends and I go as much anymore.
Don Pedro
Don Pedro hosts Salsa nights on Monday. You can come around 7 for a salsa lesson and then continue dancing until 11 or 12.
The Garden at Selina's
Selina's offer salsa lessons on Wednesday and then a live salsa band until the end of the evening. Every couple of weeks, they will throw a Freaky Party on Saturday nights.
How To Get To Sayulita From Puerto Vallarta
From the Licenciado Gustavo Díaz Ordaz International Airport (PVR) in Puerto Vallarta, a taxi will cost about 800-100 pesos ($40-50 USD) and takes about an hour.
Alternatively, you can cross the highway outside the airport using the bridge and catch a local bus going to Sayulita. The buses will have a sign on it or the locations written in markers on the windows. Just look for 'Sayulita' or say Sayulita to the bus driver with a question mark. It costs 50 pesos ($2.50 USD) and takes about 1 hour 15 minutes. It's a local bus, but it's perfectly safe. If you have a lot of luggage, take a taxi.
Leaving from inside Puerto Vallarta will surprisingly cost a little less, even though it's farther away from the airport. You will have to negotiate a fee, but expect to pay around 700-800 ($35-40 USD) pesos for a taxi to get to Sayulita. Alternatively, you can get an Uber, which will cost a little less than a taxi.
There's also this easy option I recommend for people who want to do a day trip to both Sayulita and San Pancho from Puerto Vallarta.
Although it's possible to get an Uber to Sayulita, it is more difficult to get an Uber back to Puerto Vallarta from Sayulita. Like a lot of small towns around the world, the taxi drivers do not like Uber so Uber drivers aren't really welcomed there.
My personal recommendation is to use a local private driver that offers pick-ups and drop-offs. It's cheaper than the taxi, the cars are nicer, and you have someone who speaks English. I'm always sending people to Geraldo, who's just one of the nicest guys in Sayulita, and picks you up in his new Mazda CX3. You can contact him on WhatsApp at +52 722 501 1383 to setup a pickup or drop off. At the moment, he charges 500 pesos, which is 300-500 pesos cheaper than a taxi, much less hassle, and a much nicer overall experience.
If you are renting a car and driving to Sayulita, it's a pretty straightforward drive with a grand total of two right turns to get into town. Parking inside the main part of town is difficult. You won't need a car in Sayulita unless you plan on driving to other towns or beaches like Punta Mita regularly.
Where To Do Groceries In Sayulita
Don't expect a large supermarket in Sayulita, but there are plenty of places where you can get most of what you need to cook a decent meal if you somehow tire of the many amazing places to eat. I've listed a few of the places I like to go to, but there are a few other small and similar shops/carnicerias/tortilleria that are not on this list. If you staying long term or interested in doing a big shopping trip, I'd suggest going to the MEGA in Bucerias. If you don't mind going all the way to Puerto Vallarta, there are a few other big supermarkets, a Wal-Mart and a Costco there too. But honestly, you can find a lot what you need right in town with the places I've listed below.
Terrenal Organic Food Store
A little bit of a walk from the center of town, but well worth it if you want stuff that you can't get anywhere else in town. A rather large selection of healthy and organic products including fresh cheeses and sauces. This was also the only place where I found fish sauce in town, just to give you an idea of what you can find here. Well worth a visit.
Carniceria Trancos
This is a spot right in town where you can get different cuts of beef, pork, and chicken, but they also stock a lot of different international culinary items. If you need some ponzu sauce or parmesan cheese, you can probably find it here.
Pescaderia Piolin
This is where I get my seafood. You can get shrimp and tuna steaks here for a great price. The menu is on the wall, but it's pretty easy to miss. Come early to get the best selection.
Alas Blancas
This is another convenience store like OXXO and Kiosk, but it's not a chain and also has a selection of international food and a small veggie stand.
Friday Markets
Every Friday, there's a little open air market just across the bridge on Avenida Revolución where you can buy a lot of artisan products from clothes and jewelries to organic vegetables and ready to eat dishes. It's worth visiting. Closest at 2, so get there earlier rather than later.
Sana Spices
This is great local spot for pretty much any of the spices from around the world that you need. They also do Turkish coffee here too.
Veggie Stands
There are a few stands that I go to for my veggies. One is at the corner of Calle Pelicanos and Avenida Revolución. The other is across the bridge on Manuel Rodriguez Sanchez where the old Veggie Land used to be. There quite a few other ones that you'll inevitably walk by.
OXXO/Kiosko
Of course you can find plenty of snacks and drinks at the OXXO and Kiosk and they stay open late in case you need something after hours.
Where To Get Good Wine and Alcohol In Sayulita
Sayulita Wine Shop
Definitely the place in Sayulita to get your wine. There's a large curated selection of Mexican wines that's not available elsewhere in town. They also have tastings on Wednesday evening. It's the cheapest, but if you want to indulge in good wine, this is the spot.
El Coyul
This is where I go to get my cheap liquor. It's a chain and they always have some crazy cheap going on with the half sized bottles that's cost less than half a full sized bottle. Does that make sense? Just check it out. There's a lot of cheap, somewhat drinkable wine here too. Perfect if you just want some cold drinks for the beach.
OXXO/Kiosko
This is where everyone goes to grab a beer or some drinks for the night. It's convenient and there are always promotions.
Where To Do Laundry In Sayulita
There are no public Laundromats in Sayulita and very few places you'd be staying have washing/drying machines. Almost everyone just does their laundry by hand or gets it done at one of the lavanderias. You drop everything off in a bag and pay by weight. There's usually a 3 kg minimum and it prices start around 60 pesos for 3 kg.
The oldest lavaderia in town is Lavazone on Calle Jose Mariscal. Thinys is where I get my laundry done most of the time. Just let them know if you have any special requests like certain items being hung dry instead of machine dried.
There's another spot without a name that's listed as Lavaderia En 3 Horas on Google Maps. It's at the back of a souvenir shop. I really like this place too the last time I needed to do laundry and Lavazone was closed.
There's also another place called Laundromat across the bridge on Avenida Revolución. I've never used them, but my friends have, and there's no complaints.
Best Gyms And Where To Workout In Sayulita
If surfing and yoga isn't enough and you need a gym, Sayulita has a couple of options in and around town.
1. Sayulita Fit
Opened in 2019, this is the nicer of the two main gyms in Sayulita. It's on Avenida Revolucion about a 10 minute walk across the bridge in town. There's an entire room with weights, benches, and machines that are kept up in great condition. It's a pretty compact space for the surprising amount of equipment that's in there. There are treadmills, ellipticals and even a rowing machine.
The other half of the gym is a large open studio that's used for different classes and jiu-jitsu training. Outside the 2-3 hours a day that the classes are held, it's empty and available for use. There are two dance poles in there, battle ropes, bosu balls, and mats amongst other smaller equipment that you can use to put together any kind of workout. There's also a separate spin studio and a shower in each of the men and women's restrooms.
This is where I went to workout the last time I was in Sayulita because I wanted to focus on weights and using machines for my workouts. It's not cheap by Mexico standard. It's 200 pesos a day to drop in,  600 pesos for a week and 1200 pesos for a month. If you are staying longer, it's not so bad.
2. Quilombo
The other gym is no slouch either. If you prefer classes, like boxing, kickboxing, and HIIT, I would definitely recommend Quilombo. This gym is more rustic, but still has most things you would need to get a great workout. The prices are a little cheaper than Sayulita Fit, but I think you get more value out of it if you're there for the classes.
There is much more of a family/community vibe here. It was getting pretty hot in May/June so I opted for Sayulita Fit for their air conditioning, but otherwise I probably prefer Quilombo out of the two.
This is where I used to workout when I doing boxing and wanted a gym where I did more functional workouts instead of just focusing on weights.
How To Get To Other Beaches In Sayulita
Sayulita's main stretch of beach is quite a stretch. If you just head a bit North away from the center, you'll get emptier beach for yourself. My friends and I usually walk about 10-15 minutes in the direction towards Playa Malpaso and hang out near Las Sirenas Beach Club. It's pretty empty there most of the time and a great spot to see the sunset from March onwards. That said, if you want to get away from the crowd, below are a couple of other beaches and directions on how to get there.
Playa De Los Muertos
This is not really getting away since its only about a 10-15 minute walk, but it is still away from the main beach. The next beach over from the main beach is actually blocked by rocks. To get here, walk along Calle Pescadores. There's a driving path, or you can walk along the beach. Follow it to the end past Villa Amor and Amor Boutique. At the end of the road, turn left and keep walking up. You'll start to go downhill and see a cemetery to your left. At the end of that dirt path, turn right and you're at Muertos.
Playa Carracitos
This is where we usually go to really get away from the crowd. Maybe there's another group or a few people, but this place is far enough away that most of the tourists will skip it. It's one of my favorite spots in Sayulita.
Getting here is a little trickier since you're walking along the jungle paths. You follow the same path towards Muertos, but instead of turning right towards the beach, you go turn left and walk into the jungle. At the first split, you go right and almost make a U-turn going up Ninos Heroes. Next, you'll see more signs indicating paths to Punta Sayulita. Take the left path and continue up until you see a house. Go left here and it'll look like there's nowhere else to go, but you'll see a path that sort of goes through a broken up piece of wall down a thin dirt path. Follow it to the end and you'll be at Carracitos.
Playa Patzcuarito
Even emptier and farther away than Carracitos is Patzcuarito. I love this spot as well, but it can take almost an hour to get here without a car. Locals have given me estimates of 30 minutes to 2 hours, but really, it's about an 45 minutes to an hour if you're walking with the intent to get there.
Forget what Google Maps says. The easiest and most straight forward way is to head along Avenida Revolución heading out of Sayulita towards Punta Mita. That street becomes Punta de Mita. If you're walking, it's about 20 minutes until you reach Calle Palapa. There's an unfinished building to your right. Turn right down this dirt road and follow it. Keep following it through the jungle for about 20-30 minutes until you come to a T intersection. There will be signs, but turn right and then left and you'll find yourself at Playa Patzcuarito.
Playa Malpaso
I put this last because I personally don't like going this far down and also because there are been enough reports of theft/attacks that I just avoid it all together. If you do go, try to avoid going alone and just exercise caution with your belongings. I may be a bit of an alarmist here, but better safe than sorry. It's almost always empty around here and far enough away from town that anything can happen.
To get here, you just keep walking North on the main beach from Sayulita.
Last Words On Sayulita
Relax. Enjoy. Eat. That's why I come to Sayulita. It's always the perfect break and holiday after my travels. I come here to unwind, hang out with good people, and eat the best food. If you need a break from life, Sayulita is my recommendation.
Updated on October 24, 2023