Ultimate Guide To Sayulita: Mexico's Hidden Gem Surf Town
Ultimate Guide To Sayulita: Mexico's Hidden Gem Surf Town
Last Updated on August 26, 2021
---
With the pandemic affecting so many local communities in countries that rely on the tourism business, now is the time to introduce or re-introduce people to a gem of a surf town in Mexico called Sayulita.
It's one of my favorite places in the world.
Those who already know about it, know just how special this place is. There are many beach spots in the world, but what makes Sayulita unique is that while it has almost everything to offer to the most demanding tourists and continues to grow, it manages to keep the charm of the hippie surf culture that made it what it was in the first place.
Below is my comprehensive guide that's come from spending a chunk of my time here every year since I first visited in 2014.
Where To Eat | Best Hostels | Best Boutique Hotels | Best Airbnb | Top Things To Do | Best Time To Visit | Where To Go Surfing Around Sayulita | How To Get To Sayulita | Where To Get Groceries | Where To Get Alcohol | Where To Do Laundry | Car and Golf Cart Rentals | Best Pool Day Pass | Best Gyms In Sayulita | How To Get To Other Beaches In Sayulita |
Escaping The Crowd In Puerto Vallarta
My favorite thing about Puerto Vallarta is that it is very well known and 45 minutes away from Sayulita – which keeps most of your average tourists visiting Mexico away from Sayulita.
PVR has the international airport, the mega resorts, beaches, shopping malls, and even an old town to keep most tourists happy. There's no reason to trek out nearly an hour to go to another "beach" when you can just stay put and "safe" at your hotel with its private access to a beach.
It is the ultimate buffer that has kept Sayulita a more hidden enough town – at least for now.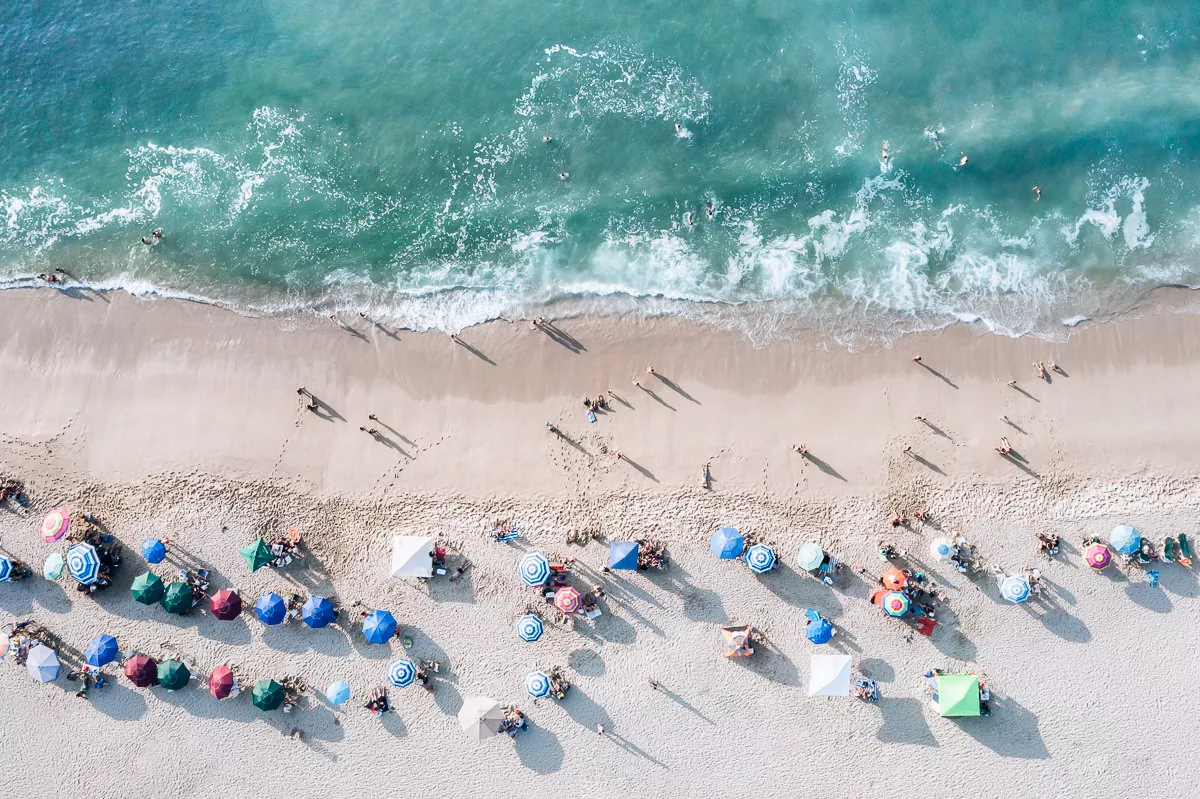 And yet, being just out of arm's reach from Puerto Vallarta means that I can take a 2.5 hour flight from Los Angeles in the morning, jump on a local bus across the street from the airport, and be there in time (even with a 2 hour time difference) to catch an afternoon surf and settle in for some beers on the beach at sunset.
My Favorite Places To Eat In Sayulita
Over the years, I've actually made it a challenge to eat at every restaurant and food stall in Sayulita and to my surprise, there were over 100 different dining options. Each time I come back, new restaurants and stalls pop up, so it's never-ending.
The main part of town is a 3 x 3 "block" grid and there's over 30 places here alone. Finding a good place to eat is easy, but it's also difficult because there are so many to choose from.
There's 3 places I first recommend to everyone when they arrive into town hungry.
1. El Itacate
You can't miss this place with all the fragrant smoke rising from the grill in their open kitchen. Look closer and you'll probably see a large skillet with cheese being fried. That's for the 'Itacate', a tortilla-less burrito wrapped in a crispy fried cheese.
I go here because it has the best arranchera steak tacos in town. Everything is served with a massive spread of salsas, fire-grilled onions, beans, cilantro and peppers. There are many options for vegetarians, but I recommend the sautéed 'jamica' or hibiscus tacos. If you come a second, or third time, get the 'chili' or 'papas'. Trust me on this one.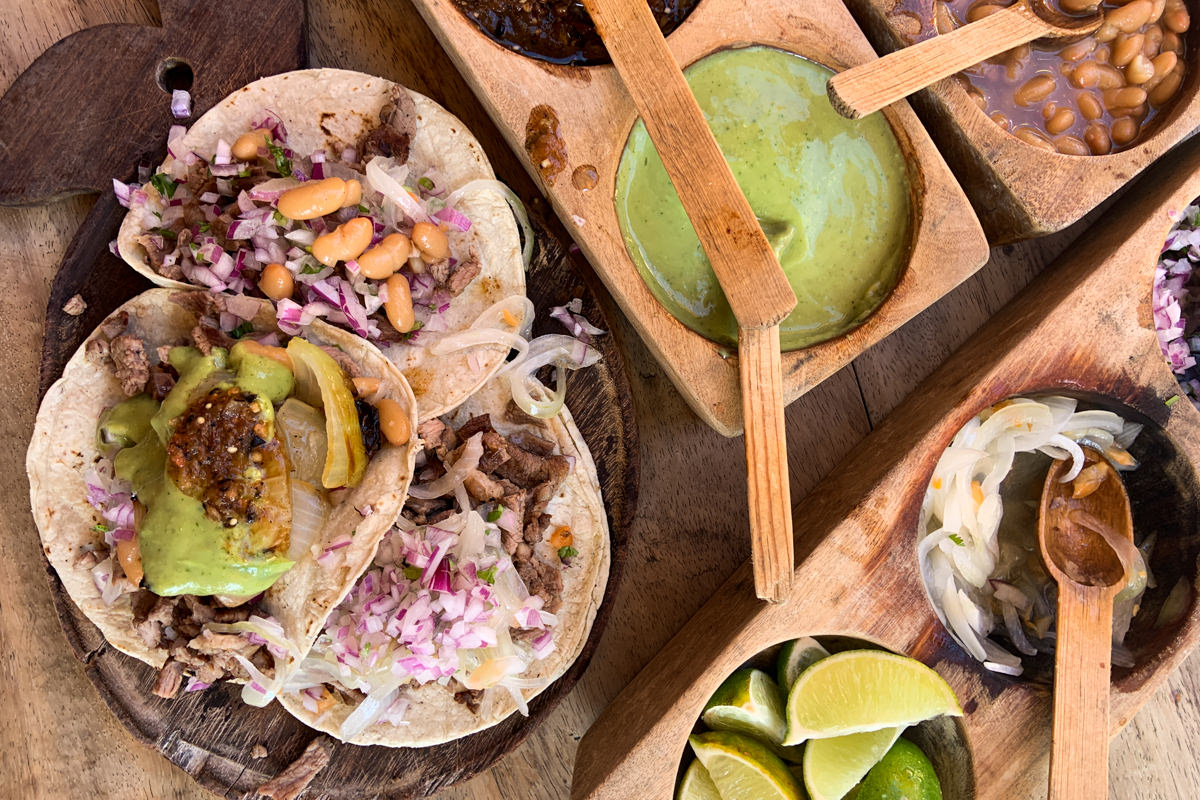 2. Mary's
I'd say this is the best Baja-style seafood tacos in Sayulita, but it's much more than that. Order the Mary's Taco and Sayulita Taco, a fresh take on the camarones (shrimp) tacos that is topped with fresh avocados, roasted poblano peppers, sweet corn and mushrooms. Top it with their addictive homemade chipotle sauce and you have perfection.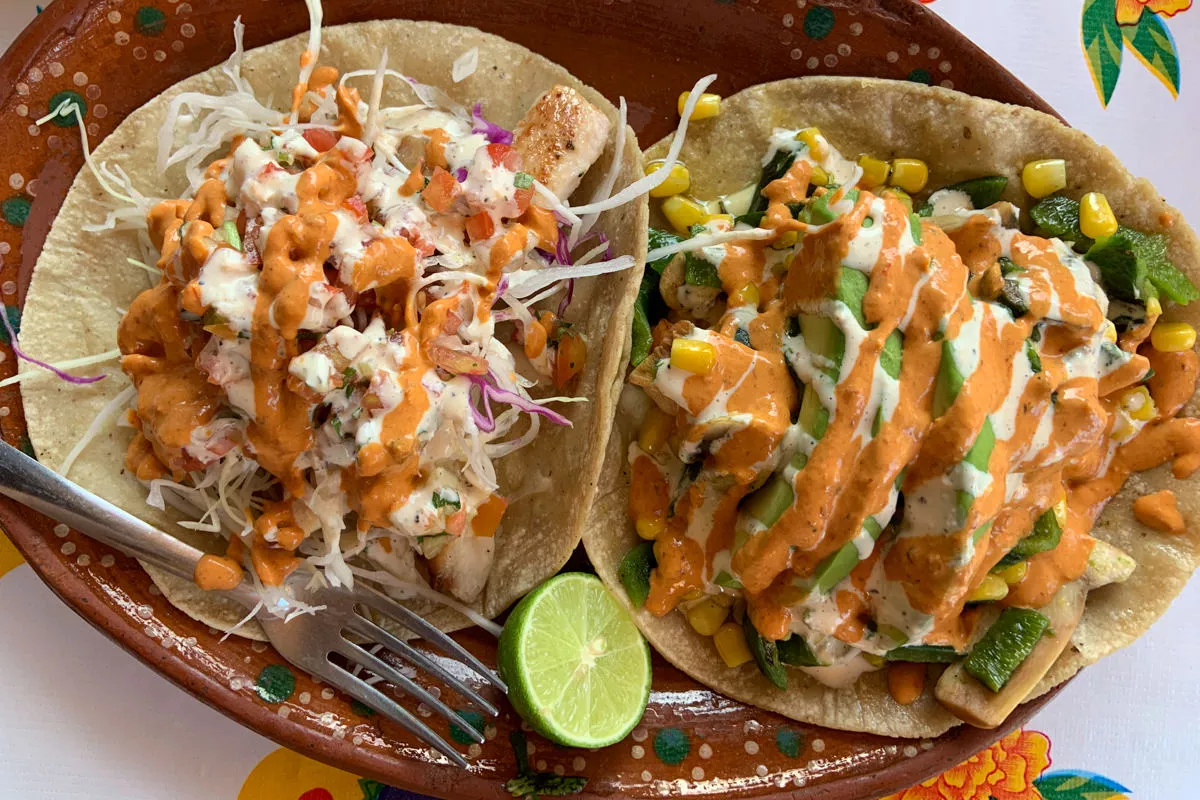 Two of these tacos will fill me up each time. Order one grilled and the other breaded. It's so hard to choose.
Another great option that I eat on the regular is their cazuelita. It's basically a Mexican version of your typical bowls, filled with rice, beans, a variety of grilled vegetables and topped with your favorite protein. Ask for the black oil and the chipotle sauce to go with it.
3. Barracuda
For lunch or dinner, treat yourself to a fine dining open air experience. This place has the freshest seafood in town, whether you eat right on the main Delfines street location or at the beach front restaurant itself.
Any fish on the menu with be prepared beautifully, but I recommend their steaming seafood molcajete (picture an extra large mortar and pestle without the pestle made of volcanic rocks) with generous portions of giant prawns, octopus, melt-in-your-mouth arranchera (skirt steak) and slabs of fresh queso. They've got a great cocktail and wine selection too.
Definitely check out my full list below for my comprehensive eating guide to Sayulita.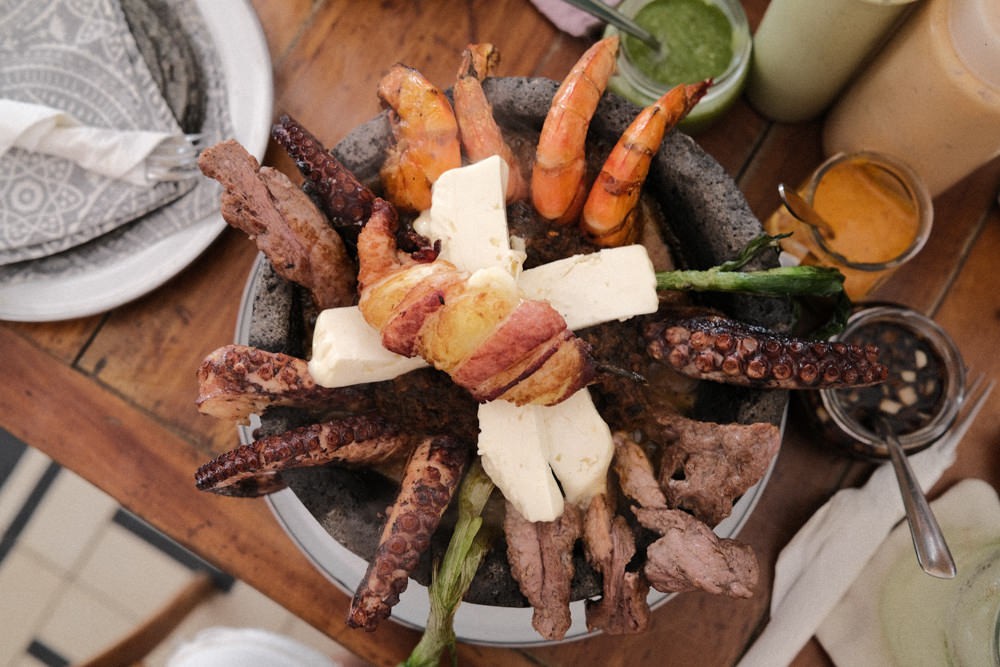 Where To Stay In Sayulita
Like it's food offerings, there are accommodations for all budgets and tastes in Sayulita from beach bungalows to hilltop hotels offering privacy and quiet.
Best Sayulita Hostels
For backpackers and budget travelers, there are a few hostels in Sayulita. The Amazing Hostel offers a quiet space away from the crowd, but for me, the go to spot is either La Redonda Hostel or Selina Hostel.
La Redonda is run by two girls born and raised in Sayulita and has the best location in town – just about 100 meters from the beach.
La Redonda Hostel
La Redonda Hostel is rotunda shaped with dormitory style rooms on the top floor and an amazing open-plan hang out space and bar on the ground floor. It opens into a garden with tables, hammocks, and an outdoor kitchen. There's even an outdoor shower to wash off the sand after a surf session. They rent surfboards and can set you up with anything you need to do in Sayulita.
You can book directly with them for the best rates.
Selina Hostel
Selina's is a chain of hostel/hotel combo that's all over Mexico. While it may lack of the charm of being locally owned, you get really good value and high end hostel accommodations at reasonable prices.
One of the newer options in town, the Selina brand took over where Kupuri hotel used to be. There's a pool in the courtyard and direct access to "The Garden" a restaurant, bar and co-working space that offers live music most nights and salsa lessons on Wednesdays.
Best Boutique Hotels & Resorts In Sayulita
Updated August 2021: This section is currently being updated as I review some of the newer accommodation options in Sayulita.
1. Casa Selva
2. Azul Pitaya
3. Local Tribe De Mexico
Best Airbnbs In Sayulita
Updated August 2021: This section is currently being updated as I review some of the newer Airbnb options in Sayulita.
1. Longboard Heaven
2. Casa Arbor
Top Things To Do In Sayulita
1. Hit The Surf
This is after all, a surf town. Come learn to surf with the many surf schools in town. I highly recommend Marea Surf School, run by a local guy named Miguel. They are laid-back, professional and offer really good prices on lessons and rentals.
The main beach has two main surf spots – one for beginners, and the others for experienced surfers. Further down the beach is another spot that's right in between. The slower breaks are preferred by longboarders, but shortboarders come out when the breaks are faster and shorter.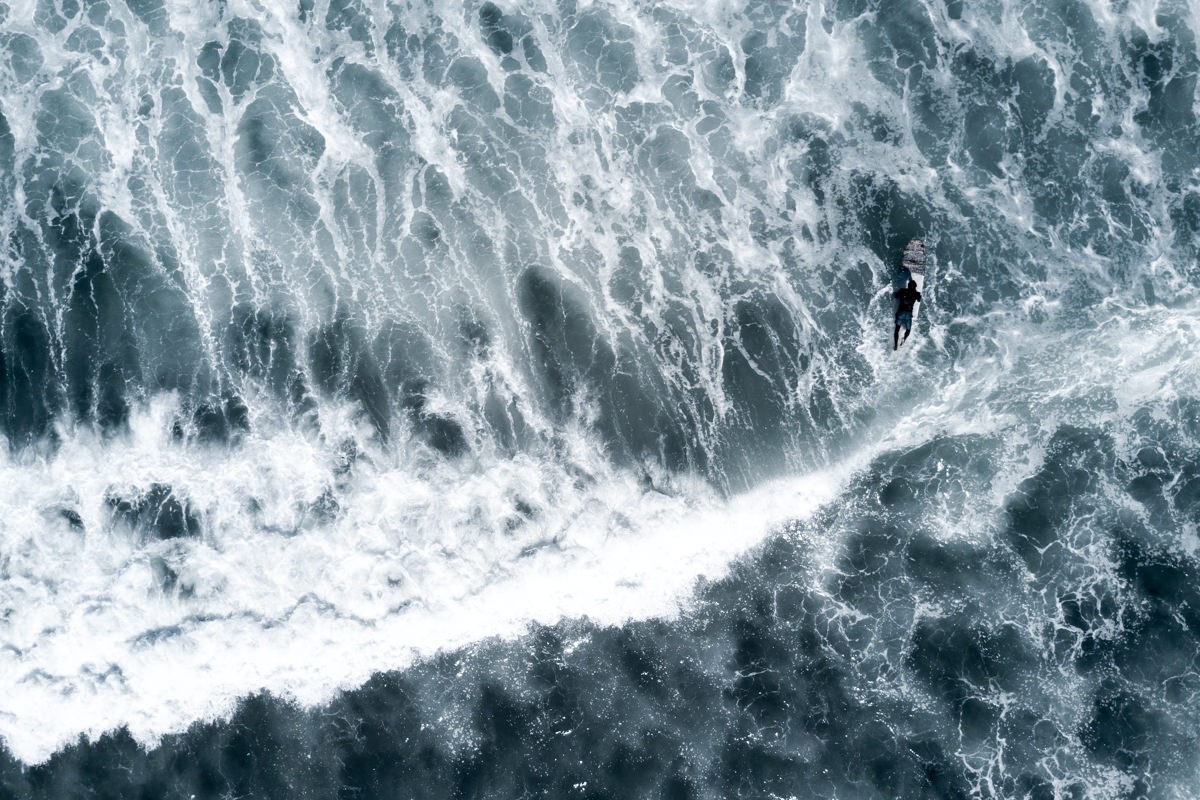 2. Visit The Marieta Islands
The Marieta Islands is now a protected area and limit the number of visitors a day. The famous Playa del Amor is a bucket list spot that requires a short swim or snorkel in. The beach would be all but hidden if not for the massive caved in opening atop the rocky island.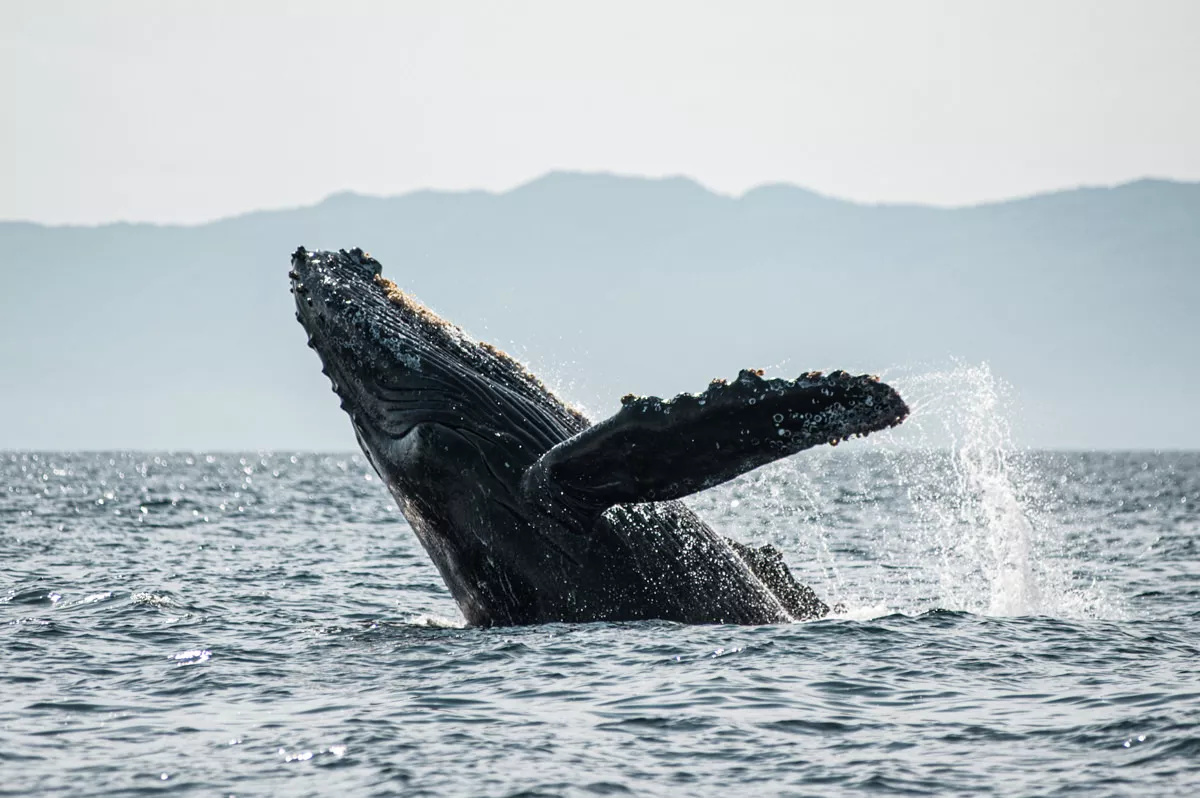 From December – April, you're almost sure to catch a whale or two during their migration season.
3. Spend The Day On A Catamaran
It might be wrong to say this, but I'm almost bored of seeing whales when I go out on a boat trip here – because you spot so many of them breeching the surface. Daily catamaran tours take sunbathers out on the open waters for an open bar day of fun and sun.
They stop in different spots for you to snorkel, paddleboard or kayak. It's one of my favorite things to do every so often with a group of friends. Chica Locca and Ally Cats are the two companies offering these boat tours. They are both similar, though you tend you find a younger crowd on Chica Locca.
4. Catch The Sunset At Carraccitos
The only bad thing you can say about Sayulita is that there is no sunset for parts of the year. It's blocked by one of the small rocky mountains to the west. Go for a nice hike through the jungle down to Playa Carracitos and you "escape" from Sayulita. It's a great spot to spend a peaceful day and catch the sunset. The afternoon glow and golden hour on the main beach is just sublime. It's my favorite time of day.
5. Party Every Night Somewhere Different
There are a handful of bars and beach clubs that everyone goes to on certain nights of the week. Learn salsa at The Garden on Wednesday and dance on the beach at Coco's every Friday night. If you're into techno and electronic music, Yambak is a local favorite with half the crowd just hanging out on the street having a beer. Lucid just down the same street draws some great local DJs. Attico is another favorite with locals and visitors alike, where you can grab a seat at one of the swings (or a normal table if you prefer) and listen to live music every night with a good drink in your hands. Don Pato's has been around for as long as I've been visiting Sayulita and I still like to go here for their ever changing music selection each night and the cheap drinks.
6. Fix That Hangover With A Session Of Yoga
There are a lot of of yoga teacher training down in Sayulita, taking advantage of the quiet tropical space just outside the main drag. Paraiso Yoga offers daily yoga classes for 200 pesos (~$10 USD per session).
Alternatively, there are private instructors that teach at the hostels (open to everyone). I prefer this, as you are supporting local practitioners and the prices are more amazing.
Valeria is an amazing instructor with such a wonderful attitude and approach. She teaches at a few different hotels, but you can also reach out to her for private lessons right in the comfort of your own accommodation for a really good price. You can reach her at +524761006810 on WhatsApp. I highly recommend it.
7. Escape to San Pancho
The next town over is what Sayulita was 5-10 years ago. It's a weekly day trip for me to go somewhere a little more quiet. That's not to say they don't have everything that Sayulita has, including some of the best restaurants and a sunset that everyone claps for each day.
The Best Time To Come To Sayulita
December and January is the high season for Sayulita. North Americans and Europeans comes down here to escape their cold winters. It's also the best to come down in terms of weather.
I also like March and April. Thought it gets really busy every weekend, it's still a great time to come down before it gets too hot.  It's warm, but the heat has yet to truly hit by April. Mexico's hot and rainy season is from July to September, which is the quietest time of year in Sayulita.
Things cool down a bit in October, just as the holidays begin starting with Dia de los Muertos at the end of the month.
November is my favorite month personally because the water is perfect, it's sunny every day and it's the calm of the storm before the high season. Not to say that I don't enjoy December and January. The atmosphere picks up and it's a lot of fun. If it feels too crowded, like on a local holiday weekend, I just take a 10 minute cab to San Pancho, a sleepier version of Sayulita.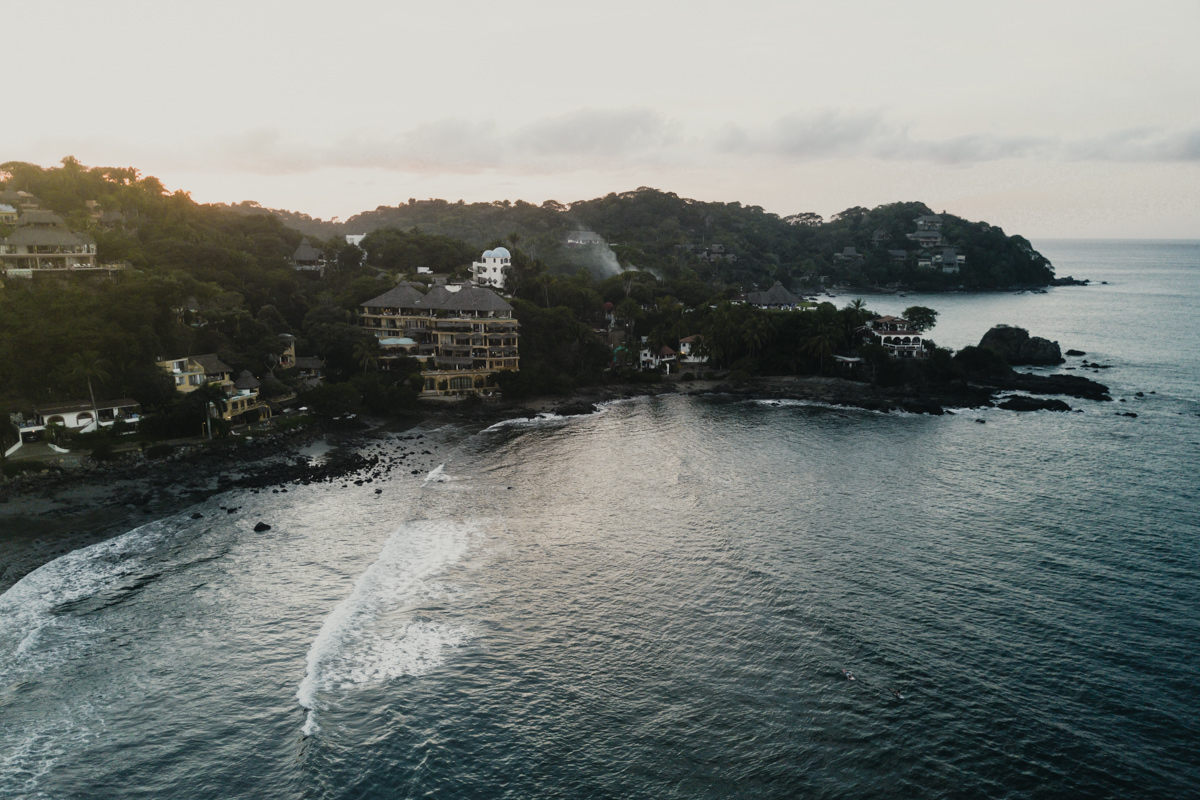 Things settle down in February a bit, so it's similar to November, but a bit warmer. March and April marks the beginning of the hot months in Sayulita. The town is a lot more quiet, so it's great time to go if you want to avoid most of the visitors.
May, June and July puts you right in the middle of summer. Puerto Vallarta gets a lot of the summer vacation crowd, with some making their way to Sayulita. I personally avoid these months because it gets too hot for me.
Where To Surf Around Sayulita
This section will be updated soon with a detailed map of all the best spots to surf around Sayulita.
How To Get To Sayulita From Puerto Vallarta
From the Licenciado Gustavo Díaz Ordaz International Airport (PVR) in Puerto Vallarta, a taxi will cost about 800-100 pesos ($40-50 USD) and takes about an hour.
Alternatively, you can cross the highway outside the airport using the bridge and catch a local bus going to Sayulita. The buses will have a sign on it or the locations written in markers on the windows. Just look for 'Sayulita' or say Sayulita to the bus driver with a question mark. It costs 50 pesos ($2.50 USD) and takes about 1 hour 15 minutes. It's a local bus, but it's perfectly safe. If you have a lot of luggage, take a taxi.
Leaving from inside Puerto Vallarta will surprisingly cost a little less, even though it's farther away from the airport. You will have to negotiate a fee, but expect to pay around 700-800 ($35-40 USD) pesos for a taxi to get to Sayulita. Alternatively, you can get an Uber, which will cost a little less than a taxi.
There's also this easy option I recommend for people who want to do a day trip to both Sayulita and San Pancho from Puerto Vallarta.
Although it's possible to get an Uber to Sayulita, it is more difficult to get an Uber back to Puerto Vallarta from Sayulita. Like a lot of small towns around the world, the taxi drivers do not like Uber so Uber drivers aren't really welcomed there.
My personal recommendation is to use a local private driver that offers pick-ups and drop-offs. It's cheaper than the taxi, the cars are nicer, and you have someone who speaks English. I'm always sending people to Geraldo, who's just one of the nicest guys in Sayulita, and picks you up in his new Mazda CX3. You can contact him on WhatsApp at +52 722 501 1383 to setup a pickup or drop off. At the moment, he charges 500 pesos, which is 300-500 pesos cheaper than a taxi, much less hassle, and a much nicer overall experience.
If you are renting a car and driving to Sayulita, it's a pretty straightforward drive with a grand total of two right turns to get into town. Parking inside the main part of town is difficult. You won't need a car in Sayulita unless you plan on driving to other towns or beaches like Punta Mita regularly.
Where To Do Groceries In Sayulita
Updated June 2021: This section is currently being updated.
Where To Get Good Wine and Alcohol In Sayulita
Updated June 2021: This section is currently being updated as I review some of the new options in Sayulita.
Where To Do Laundry In Sayulita
Updated June 2021: This section is currently being reviewed as I update the locations of laundry options in Sayulita.
Where To Rent Cars and Golf Carts in Sayulita
Updated June 2021: This section is currently being updated as I review some of current rental deals in Sayulita.
Best Gyms And Where To Workout In Sayulita
If surfing and yoga isn't enough and you need a gym, Sayulita has a couple of options in and around town.
1. Sayulita Fit: Opened in 2019, this is the nicer of the two main gyms in Sayulita. It's on Avenida Revolucion about a 10 minute walk across the bridge in town. There's an entire room with weights, benches, and machines that are kept up in great condition. It's a pretty compact space for the surprising amount of equipment that's in there. There are treadmills, ellipticals and even a rowing machine.
The other half of the gym is a large open studio that's used for different classes and jiu-jitsu training. Outside the 2-3 hours a day that the classes are held, it's empty and available for use. There are two dance poles in there, battle ropes, bosu balls, and mats amongst other smaller equipment that you can use to put together any kind of workout. There's also a separate spin studio and a shower in each of the men and women's restrooms.
This is where I went to workout the last time I was in Sayulita because I wanted to focus on weights and using machines for my workouts. It's not cheap by Mexico standard. It's 200 pesos a day to drop in,  600 pesos for a week and 1200 pesos for a month. If you are staying longer, it's not so bad.
2. Quilombo: The other gym is no slouch either. If you prefer classes, like boxing, kickboxing, and HIIT, I would definitely recommend Quilombo. This gym is more rustic, but still has most things you would need to get a great workout. The prices are a little cheaper than Sayulita Fit, but I think you get more value out of it if you're there for the classes.
There is much more of a family/community vibe here. It was getting pretty hot in May/June so I opted for Sayulita Fit for their air conditioning, but otherwise I probably prefer Quilombo out of the two.
This is where I used to workout when I doing boxing and wanted a gym where I did more functional workouts instead of just focusing on weights.
How To Get To Other Beaches In Sayulita
Updated June 2021: This section is currently being added with new maps.
Best Pool Day Passes In Sayulita
Updated June 2021: This section is currently being updated as I review some of current rental deals in Sayulita.
Last Words On Sayulita
Relax. Enjoy. Eat. That's why I come to Sayulita. It's always the perfect break and holiday after my travels. I come here to unwind, hang out with good people, and eat the best food. If you need a break from life, Sayulita is my recommendation.