Things To Do In Puerto Vallarta: Making My Own Chocolate at Cacao Magico
Things To Do In Puerto Vallarta: Making My Own Chocolate at Cacao Magico
Last Updated on August 25, 2021
---
Mexico's one of the places that has been mostly opened during the pandemic and as a result Puerto Vallarta has become a very popular destination – and for good reasons. It's got beaches, amazing restaurants, and plenty of ways for you to spend your days under the sun.
When I come down fly to Puerto Vallarta, I mostly base myself in Sayulita, but I occasionally come in to the bigger city to see what's new's and what's changed. By happenstance, I met the guys behind Cacao Magico, a local chocolatier, when they came to Sayulita to promote their chocolates. And I was hooked. The chocolates were incredibly beautiful and they tasted just like the best stuff you'd get out of Europe.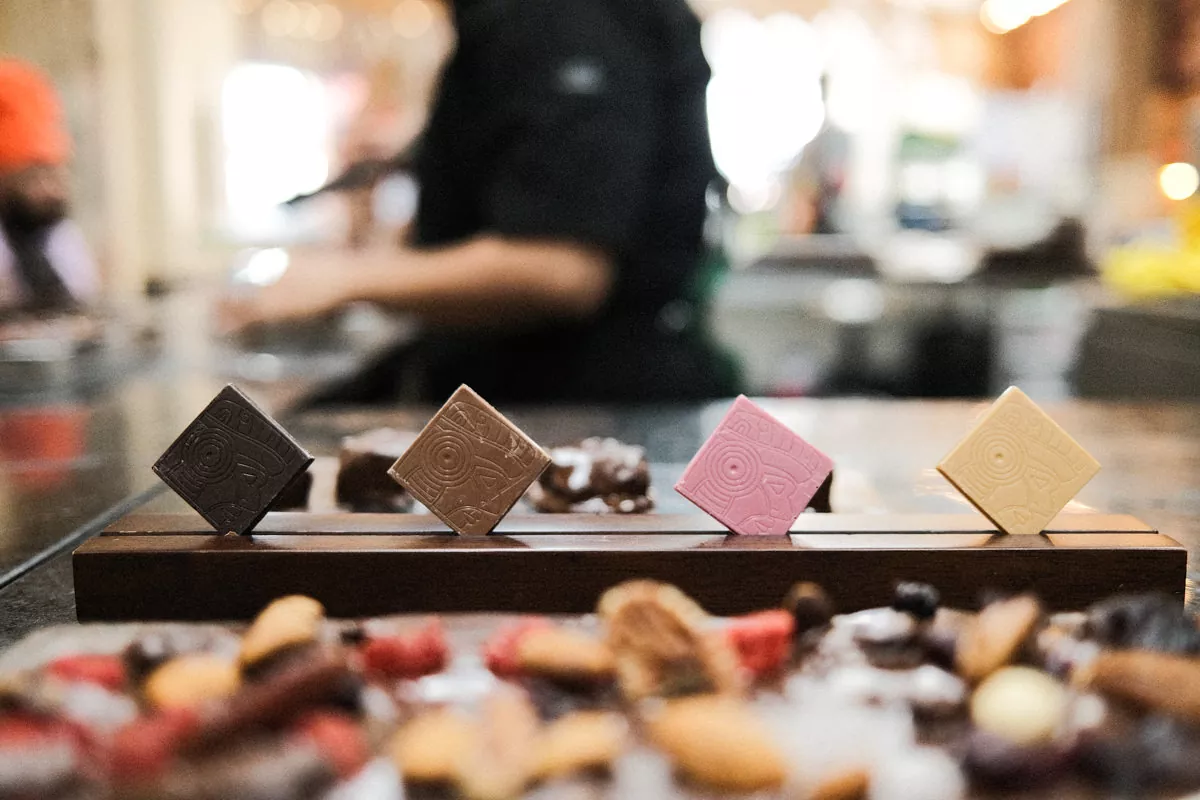 When they invited me to check out their chocolate making experience, the only question I had was "can I bring some friends?"
The Cacao Magico Chocolate Making Experience
The shop and kitchen of Cacao Magico in the Puerto Magico port terminal is a located perfectly for those taking a cruises, but it's something that should delightfully be on the list of things to do for anyone visiting Puerto Vallarta for 2 main reasons:
You make your own chocolate
You get to take that chocolate home. And admire it. And then eat it. And then wished you made some more.
But if you get to learn a bit about the history of chocolates and the humble cacao bean, which originated in Mexico during the Mayan Empire, or possibly even earlier during the Olmec times. When you think of chocolate, a fruit is hardly the first thing that comes to mind, but inside the wrinkly football shaped cacao fruit are pods of seeds that are the basis of chocolates. And even cacao tea, which was something we started with.
Before you get to part of the process that gives us the sweet chocolate you know, you start with the cacao fruit and the seeds. During the experience, that's exactly what we did.
Mario, the head chocolatier, cuts open a cacao fruit and passes around for you to touch and smell..and then taste. It's sweet, and pulpy and and acidic and nothing like the dried, already roasted cacao beans that some one of us have seen and tasted. Cracking open one of the beans and it's actually quite bluish inside. This was a surprise. There's definitely the baseline taste of cacao, but its sour.
From there, Mario continues with the drying and roasting process showing us the machines in the kitchen that's used for each part of the process. Once dried and roasted, the bean are grounded and sugar is added to give us the sweet taste that we're all familiar with.
But that's enough of that, you'll experience it for yourself.
The Magic of Tempering Chocolate
This was where I learned something new. Do you ever wonder how chocolate goes from a liquid state to something solid that can be stored at room temperature without melting so easily?
Probably not right? But that's where tempering comes in. Cacao butter is the fat in the cacao bean and chocolate that gives us that smooth texture and also helps to bind and keep it solid. It's made of 3-4 glycerides of fatty acid. These glycerides all have different temperatures at which point they solidify. When chocolate is melted the fatty acid crystals separate. Tempered chocolate has a much higher melting temperature than untempered chocolate. So forget the science for a second, here's how it actually works in layman's terms.
You need to melt the chocolate and then cool it again. Simple right?
During the workshop, you pour out the chocolate onto the marble table and then using a technique that Mario shows you, you spread out the chocolate liquid and then bring it together, effectively airing and cooling it along the way. It's quite cool to see and do in person. When it's all done, you gather all the chocolate back and it's ready to be used.
Mario set out a piece of plastic where he placed drizzled some of the untempered chocolates and next to it, some tempered chocolate. Within a few minutes, you can see that the tempered chocolate had solidified, while the untempered was still the same.
DIY Gourmet Chocolate To Take Home
From here, his assistants prepare a mold for each person with a layer of the tempered chocolate and put the rest into pastry bags that we will all use to from the rest of the chocolate "bar". The next part is best.
This is where you can to choose from a variety of nuts and candied fruits to fill your molds. We had almonds, hazelnuts, pecans and some candied pineapples with chili that I had to resist from just snacking on.
We had a great fun time doing this. While I was busy just throwing everything in like a greedy trail mix fiend, I turn to to see that my friend Emy has neatly organized hers with different combinations into each of the separate compartments. Show off.
When we were ready, it was time to "cover" our combinations with the chocolate form the pastry bag. At this point, I was not sure how whatever I was putting together would turn into a pretty chocolate bar. But I didn't care because it was just the 3 of us having a great time.
Having exhausted my supply of chocolate, I stared at my overflowing mold and gave a semi-apologetic glance towards the assistants who were waiting for us to finish. I expected her to give me an eye roll, but it was business as usual for her and she just gave me a smile back through her mask. I think it was a smile.
While we waiting for the chocolate to solidify, we were presented with 4 perfect squares of chocolates in different chocolates for a tasting. This was supposed to be the "tasting" part, but we had already been sneaking in some of the mid-process chocolates the entire time. It was all delicious.
Once the chocolates solidified, the assistants went to work cutting off the excess around the square mold. Waste not, want not. So I gave her another semi-apologetic glance and swiped all those pieces to be eaten and not tossed. Then we were handed back our trays for the best part. With one smooth flick, Mario demonstrated how to remove the chocolate from the mold. For us, it wasn't as smooth, but after flipping over and slamming our trays a few times (and losing a few nuts along the way), a perfect square of chocolate bar released itself from the tray and onto the table. Each one of the 9 squares had a letter and together they spelled out chocolate. Beautiful.
Once wrapped up, they looked exactly like something you could buy as a gift for someone. We made two each so there was plenty to share with my friends who couldn't make it out there. Well, some to share. I wasn't letting go of my chocolate so easily.
All and all, it was an activity that was a lot more fun that we initially anticipated. We all loved learning a bit more about the history of chocolate and we loved it even more that we were able to bring home our gorgeous creations.
If you're in Puerto Vallarta and have a couple of hours to spare, I highly recommended putting this on your list. I recommend it even more if you have kids. They would love this.
You can do the full 75 min experience for $75 USD, an express 40 min experience (where you still make your own chocolates) for $40 and there's a separate Kids experience for $25 USD where they can make their own chocolate pizza and skewers with a bunch of different toppings.
If you're looking for something else to do, definitely set aside some time to check out Sayulita and all of its amazing food offerings there.