Configuring the TourBox for Chrome and Safari
Configuring the TourBox for Chrome and Safari
Last Updated on April 19, 2023
As a full time travel photographer and filmmaker, I'm constantly traveling and on the road, but let me make this clear: I spend a lot of time at a desk editing. When I'm in somewhere near a beach, any extra hour spent editing is one hour less I can spend surfing or taking in some sun. For that reason, you might notice that I always keep one eye open for anything that can cut down on my editing workflow.
---
Enter the oddly named TourBox. Ignore the name or the initially confusing array of buttons, wheels, and dials. This is one of my favorite piece of hardware and it's small enough that I'd take it with me on my travels, where I always try to be as light and compact as possible.
If you need a deeper dive into what the TourBox is, check out my review of the console:
Deeper Dive Review Of The TourBox
If you want to take an in-depth look at my my workflow for Adobe Lightroom or Final Cut Pro X, bookmark the links below:
Adobe Lightroom TourBox Workflow
Final Cut Pro X TourBox Workflow
Chrome and Safari Shortcuts
Other than the two editing software I mention above, my most used program is Chrome. Over time, you learn all the shortcuts that make life easier. Here are the basic ones almost everyone uses:
Open A New Window ⌘+N
Open A New Tab ⌘+T
Close A Window ⌘+W
Reopen Last Tab You Closed ⌘+Shift+T
Open A New Incognito Window ⌘+Shift+N
Copy ⌘+C
Paste ⌘+V
These are all pretty easy to remember, but I've configured these to the TourBox using single or two button combinations that are easy to remember and quicker to access than even typing in the shortcuts on a keyboard.
Using The Dial, Scroll Wheel, and Knob For Sites Like YouTube
In the latest version of the TourBox console software, there's a built-in function that allows you to "Move The Timeline Pointer". It doesn't sound very specific, but in different programs, it does a number of different and very handy things. In Chrome and Safari specifically, it allows you to scroll through music and vide0s.
With a turn of the Knob, I can scrub through a video on YouTube quickly and very precisely. This comes in handy when I'm trying to find something quickly or skip through parts of a tutorial that I'm watching (never stop learning). When I'm searching for music on a site like Artlist, it allows me to scrub through songs quickly. Finding music for my short film is a very time consuming tasks since I need to listen to all the songs to find the ones that fit. Being able to scrub through and listen to snippets quickly saves a lot of time.
With YouTube and Artlist as two of sites I use a lot, I've mapped many of the shortcuts there to the TourBox.
Up: Enter/Return
Down: Mute
Left: X (Previous Song on Artlist)
Right: C (Next Song on Artlist)
Top: Space (Play or Pause)
Top + Tall: F (Fullscreen)
Dial: Mouse Scroll Reverse (Scrolls up and down a page)
Scroll Wheel: Up + Down (Controls
Knob: Scroll Through Video or Song
C2: Save Current Page as Bookmark
Saving Time With This Configuration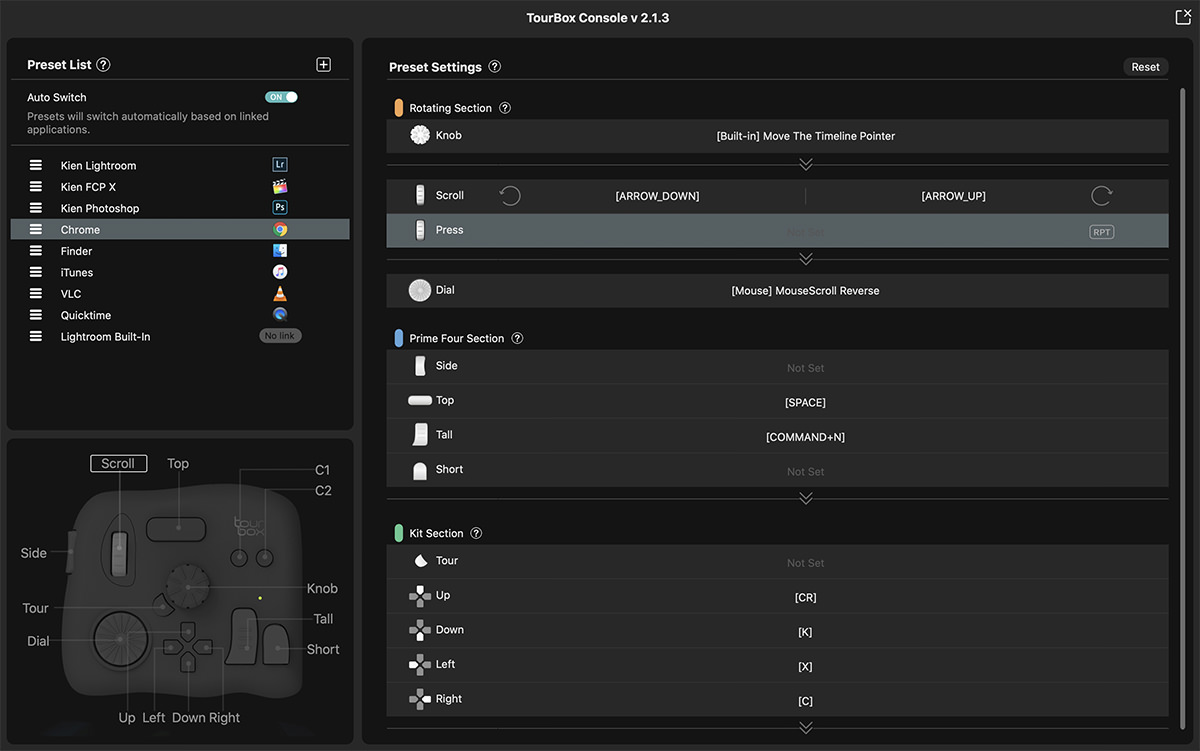 It might not seem like much, but having spent about an hour creating this configuration preset, I've been saving a lot of time doing very basic things outside of the normal editing workflow. If you'd like to download my configuration, just grab it here. Create a new Preset in the TourBox console, name it Chrome or Safari and link it to the program (make sure it's open) by clicking where it says "No Link". Then import my preset. From there, you can make any configuration changes of your own to suit your specific needs.